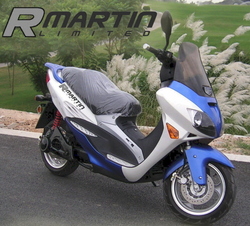 While there is a lot of hype surrounding hybrid and electric vehicles, our EVD product is reliable and cost effective today. You don't need to spend tens of thousands of dollars on gas/electric hybids to 'go green'. Our EVD allows you to leave the car parked so you won't use any gas and won't contribute to the green house gas problem
Austin, TX (PRWEB) March 25, 2008
Austin, TX, March 25, 2008 -- Tired of paying too much at the pump? Imagine leaving your car parked and easily gliding to work or your local store without actually using any gas - and returning for only pennies in transportation cost.
The R Martin EVD is alternative plug-in electric transportation that you charge by plugging into a wall outlet and uses only pennies of electricity per charge. No gas, no oil, no noise.
Our new model EVD electric scooter is classified as either a moped or motorcycle depending on your state regulations. It is perfect for urban commuting. It is larger than most electric scooters and has plenty of power to keep up with urban traffic.
"We are pleased to be able to offer clean, affordable alternative transportation to our customers. Our EVD is truly a remarkable value at less than $3600" said Randall Schleier, Sales Director for R Martin Bikes.
"While there is a lot of hype surrounding hybrid and electric vehicles, our EVD product is reliable and cost effective today. You don't need to spend tens of thousands of dollars on gas/electric hybids to 'go green'. Our EVD allows you to leave the car parked so you won't use any gas and won't contribute to the green house gas problem", continued Mr Schleier.
The R Martin EVD is designed for urban and neighborhood environments. The EVD can travel up to 50 miles on a charge at speeds up to 50 mph.
R Martin electric bikes and electric scooters are tested in real world conditions for range using a 180 lb rider. Range will vary depending on weight of rider, road conditions, tire inflation, and wind.
R Martin Limited is the licensed and authorized US distributor for the EVD electric motorcycle. The EVD is DOT certified.
Dealer agreements are currently being offered for exclusive territory rights for the EVD plug-in electric products. Visit http://www.rmartinbikes.com for more information.
About R Martin Limited
Headquartered in Austin, TX, R Martin Limited offers several models of plug-in electric bicycles and the EVD electric scooter under the trademarked R Martin label as well as other OEM brands.
Contact:
Randall Schleier, Senior Account Executive
R Martin Limited Company
512-476-0500
###