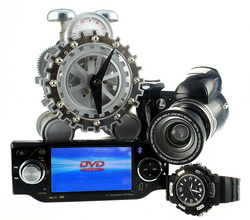 With three years' experience dropshipping in China, and direct connection to the manufacturers we can guarantee customers get a fantastic experience every time they deal with us
Shenzhen, Guangdong, China (PRWEB) March 26, 2008
eBay powersellers and online store owners take note, China is emerging as the new power in dropshipping, according to China wholesale drop shipping supplier, Chinavasion.
The sector has traditionally been dominated by US-based wholesale dropshippers as the majority of drop shipping companies have their home offices in the U.S. The biggest dropship companies such as Doba are based in the U.S. This is gradually changing though, with a number of dropshipping services coming into their own in China.
According to market analysts, the number of Chinese companies providing a dropshipping service out of China has been steadily growing. They say this number has doubled in the last 12 months alone.
Rose Li PR Manager for Chinavasion, China's original wholesale dropshipping company, said she personally knew of several dropshipping companies that had started up in Shenzhen in the last three months.
"Chinese entrepreneurs have gotten the experience they need and now they are comfortable breaking out on their own and forming their own wholesale dropship companies," she says.
Electronics distributors were especially prevalent in the Pearl River Delta as the area had become something of an important electronic manufacture source in the past five to seven years.
According to Rose Li, the increase in Chinese wholesale dropship suppliers will greatly benefit eBay powersellers and online traders as it means their drop shipping supplier will be closer to the factory source.
"When the dropshippers are closer to their suppliers, they can respond much faster to manufacturer changes than a company in a different country," she said. "They are also more likely to have built up a good relationship with suppliers making it easy for them to meet customer requests."
However, there is nothing like dealing with a dropshipping agent, or dropshipping wholesaler with experience within the industry and the locality. By using Chinavasion as a dropship supplier customers would be getting the best of both worlds, fast response times and experienced service providers.
"With three years' experience dropshipping in China, and direct connection to the manufacturers we can guarantee customers get a fantastic experience every time they deal with us," said Rose Li.
According to Rose Li, Chinavasion.com has accumulated a good reputation and a number of accreditations from esteemed firms like PayPal, Verified Site and Global Sources.
Chinavasion.com is the leading online drop ship wholesaler for MP4 players and other consumer electronics.Accredited by PayPal, Verified Site, and ScanAlert, and listed in all the leading B2B directories, Chinavasion is the market leading China supplier for EBay dropship sellers and electronics worldwide. For more details visit: http://www.chinavasion.com/.
###