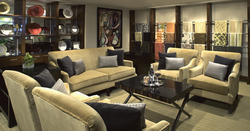 Washington, DC (PRWEB) March 26, 2008
Hyatt Regency Washington recently unveiled the new Monumental Affairs Design Center, an exclusive Washington DC event planning facility, located on the lobby level of the hotel. The Monumental Affairs Design Center is an exquisite, upscale boutique/showroom that allows customers and event planners to make selections for upcoming functions in one premiere location.
Located at Hyatt Regency Washington on Capitol Hill, this newly designed boutique offers a unique location for anyone -- from the newest bride-to-be, to the most seasoned Washington DC event planner -- to make the necessary selections of china, linen, floral arrangements, invitations, entertainment and more for their catered affair, in one convenient location. The rich décor of the room showcases the most current linen styles and china patterns, in a colorful and inviting setting.
Premiere Showcase Space for Washington DC Event Linens, China, and More
Not only is the Monumental Affairs Design Center elegant and beautiful, it is available as a convenient DC event planning resource to clients who are already holding catered functions at Hyatt Regency Washington, have booked through our off-premise catering company -- Monumental Affairs - or wish to host at any of the city's unique venues. Visit madesigncenter.com for more information, or call 202-719-8440 to make an appointment to explore the endless options for your next event.
Hyatt Regency Washington is located in the heart of Capitol Hill and features a five-story atrium lobby with 834 modern guestrooms, including 32 suites and 38,000 square feet of meeting space, including the Thornton Room with spectacular views of the U.S. Capitol, and the new Monumental Affairs Design Center. With a restaurant, lounge and coffee bar, guests can enjoy superb continental cuisine or cocktails amidst the open-air atrium lobby. For reservations or information, call Hyatt Regency Washington at 202-737-1234, or visit us at hyattregencywashington.com.
###