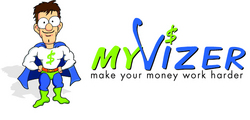 If myVizer challenges consumers to learn more about financial planning and helps motivate even a small percentage of the public to begin planning for their future, then I feel it was well worth the time and energy we put into developing the site
Alpharetta, GA (PRWEB) March 26, 2008
The Advisory Firm, LLC announces the launch of myVizer.com a free personal finance website designed to inform, educate and challenge consumers on personal finance topics. Through the use of interactive tools, myVizer's mission is to bring awareness of financial planning to the public.
myVizer.com is designed as a resource for consumers that are ready to take control of their financial situation. The site is free to use and offers consumers a number of tools to get them on the path to financial success.
"With the numerous reports indicating the lack of savings, poor debt management and less than adequate planning for retirement by consumers, I felt the need to do something to help educate the public on personal finance and financial planning," stated James Daniel CFP® owner of The Advisory Firm, LLC. "myVizer is our attempt to challenge the public to do better with their personal finances but to present it in a fun, non-intimidating format."
The website has several interactive tools available for consumers. First and foremost is the myVizer Personal Finance Score which takes a quick snapshot of their overall financial plan and gives them a rating. The site also includes a series of financial calculators to give quick estimates for specific financial goals, such as retirement, college and insurance.
Next there's an interactive budgetary/net worth tool called Budget Buster, which allows users to compare their financial position against other users. Finally, the Ask a Planner feature let's consumers pose questions to a Certified Financial Planner™ on a complimentary basis.
"If myVizer challenges consumers to learn more about financial planning and helps motivate even a small percentage of the public to begin planning for their future, then I feel it was well worth the time and energy we put into developing the site," states James Daniel CFP®. "The motivating factor in getting myVizer developed was to introduce financial planning and personal financial education to consumers that might otherwise be intimidated about approaching or working with a financial planner."
About The Advisory Firm, LLC/myVizer.com:
The Advisory Firm, LLC is a fee-only financial planning and investment management company located in Alpharetta, Georgia. myVizer.com is a wholly owned consumer financial education website.
###