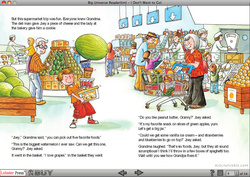 We have successfully created an online community where people can read, buy, sell and learn about beautiful children's picture books. When we launched the beta version of our website late last year, we immediately began seeing exciting results. Not only were people reading a lot of books online, but a large percentage was clicking the Buy buttons to purchase the print versions of the books
Reston, Va. (PRWEB) March 26, 2008
Big Universe, Inc., today formally announced a unique program that enables quality children's picture book publishers to increase online book sales and brand awareness. Publishers participating in this program post their children's picture books on BigUniverse.com, to be read and purchased online by consumers.
Big Universe's program is unique because it makes the publisher's books fully readable online and linked to an online retail site of the publisher's choice. Big Universe then brings thousands of visitors to the publisher's picture books every month. Consumers find the books easy to read, easy to buy, yet impossible to save or print because of the security restrictions enforced by the Big Universe software. Big Universe also provides a mini-shop to each publisher, packed with information about the publishing house, more books to buy, and a button to take visitors from BigUniverse.com to the publisher's website.
Big Universe already has many award-winning publishers signed up in this program including names such as Weekly Reader Publishing, Lobster Press, Teacher Created Materials, Illumination Arts Publishing, and several others.
"We are very excited about this program," says Anil Hemrajani, president and founder of Big Universe. "We are convinced that this is one of the best programs out there for children's picture book publishers looking to sell books online. Not only is this is a free program for publishers but this also effectively leverages the power of the Internet to bring the bookstore shopping experience to consumers but in a much more convenient way. In short, using this program the publishers can get exceptional Internet marketing at no cost, generate direct sales, increase brand awareness, and gain exposure for their authors and illustrators."
BigUniverse.com's technology consists of three key components: the website itself, Big Universe Reader™ and Big Universe Author™. The website was designed with both kids and adults in mind and presents reading and buying features in an environment that has been designed to both showcase the publishers' books and build the publisher's brand awareness. Big Universe Reader is an easy-to-use tool for reading and purchasing picture books online. Publishers are offered a choice of where the buy button will take the reader for purchasing: either to the publisher's own web site or to another online retailer such as amazon.com. Big Universe Author is highly sophisticated and robust, and yet remains simple and fun to use. This tool enables users to create and post their own books on BigUniverse.com.
"We have successfully created an online community where people can read, buy, sell and learn about beautiful children's picture books. When we launched the beta version of our website late last year, we immediately began seeing exciting results. Not only were people reading a lot of books online, but a large percentage was clicking the Buy buttons to purchase the print versions of the books," states Hemrajani. "In addition to our reading material, we also have a highly sophisticated book creation tool which indirectly benefits publishers since it draws more traffic to our site and ultimately result in more books being sold."
With traffic building rapidly, BigUniverse.com is already logging thousands of site visitors each week. Its goal is to quickly become a very high traffic website, hosting over a million unique visitors each month. Hemrajani, a highly regarded IT entrepreneur and author with a global following, brings together 20 years of experience building complex software applications for Fortune 1000 corporations and successful, robust online communities.
To learn more about Big Universe and its offerings, visit http://www.biguniverse.com/. Contact: info@biguniverse.com.
About Big Universe: Big Universe® is an online community where kids, parents, teachers, publishers, authors, illustrators, bloggers and others come together to explore the exciting world of online children's books. It offers hundreds of fiction and nonfiction children's books readable directly on the website, a book authoring tool to create and publish children's books, blogs on relevant topics and much more. For more information, visit biguniverse.com.
###