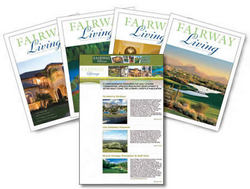 Wilmington, NC (PRWEB) March 27, 2008
To those interested in buying or selling property in upscale golf course communities and high end real estate developments, Fairway Living offers the ultimate relocation resource. The development of this innovative marketing platform brings new hope to the golf real estate market this spring.
The Fairway Living platform consists of Fairway Living magazine, Fairway Livings interactive website, and an official E-newsletter delivered regularly to a targeted audience of affluent subscribers. This audience consists of the wealthiest 10% of Americans, age 40-65, who are at a time in their lives where they are considering a lifestyle change, relocation and/or retirement.
Fairway Living magazine, published quarterly, offers in depth editorial coverage on exciting real estate developments, golf course homes, ultimate vacations, intriguing interiors, design trends, luxury products, and Golf Course Communities across America. In conjunction, an annual Community Directory will provide details and contact information on participating golf communities, divided geographically.
Adding to the success of Fairway Living Magazine is the development of Fairwayliving.com, offering golf communities and realtor's the premier place to post information, links and luxury homes on the web. Visitors to the site will be able to search for homes and communities by region, with an option to link directly to each community's homepage for more information. Visit Fairway Living Golf Community Magazine today and receive a FREE subscription, the offer will end soon.
In addition, the Fairway Living E Newsletter is sent monthly to a rapidly expanding database of opt-in subscribers, providing regular updates and a targeted lead generation tool for marketing partners.
###