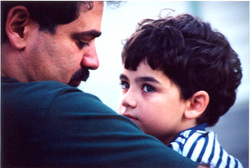 That one was written the day after my son was diagnosed with autism. The recording that you hear was completed two days after that. So it's pretty raw. Nine years on it's still difficult for me to listen to.
Los Angeles, CA (PRWEB) March 26, 2008
It's World Autism Awareness Day on Wednesday April 2, declared by the United Nations General Assembly in New York. This is the first ever international day for autism and the focus is on parents, children and adults with autism and Asperger's Syndrome. Musicians from all over the globe are supporting World Autism Awareness Day. The US group, TeamVico, are marking this historic day by releasing a concept album and it takes you through one family's journey of autism - the message is captured through original music and good old rock and roll.
The leader of TeamVico Michael Giammatteo shares his motivation. "All parents respond differently to a diagnosis of autism. I write songs," he said.
Shadow Shines- A Story of Autism and recovery takes listeners on an emotional journey of heartbreak, courage and hope. It is a concept album that tells the story of his family's experiences since his son, Vico, was diagnosed with autism almost a decade ago.
Raising a child with autism carries with it extraordinary challenges. Documenting his experiences in song provided the outlet that kept Michael sane. This creative energy has led to the release of this moving concept album. Their son was diagnosed with severe autism in December 1999. They have left no stone unturned, in order to help their son but the Giammatteo family remain positive and upbeat - every day is a miracle for them.
"All of our friends told my wife and I that we needed to write a book about our story, and suddenly I realized that I already had," says Michael. Although much has been written about autism, nothing captures emotion quite like a song. "Going back and listening to the songs all together was cathartic for me, kind of therapeutic. I realized that the music could have a healing effect in the hearts of other parents of children with special needs."
One in one hundred fifty children born in the U.S. has autism. This is a complex neurological disorder with no known cure that within the last 10 years has reached epidemic levels. It is estimated that approximately 1 million children in the US have this disorder and numbers are rising all the time. The United Nations World Autism Awareness Day will help to focus on the needs of every child and adult with autism and Asperger's Syndrome.
Michael believes that his son's story of recovery is not unique. "There are thousands of kids out there who are recovering to various degrees. There is lots of hope for our children." Michael and his wife Moira are actively involved with the support group TACA (Talk About Curing Autism) whose spokesperson is Jenny McCarthy. "Jenny has done tremendous job of spreading the word that Autism is treatable," says Moira.
Shadow Shines documents a decade that starts with the joy of Moira's pregnancy and Vico's birth. It then takes a turn as his son regresses into autism. Eventually the musical story winds its way around to the stages of his recovery. The emotional sensations of youthful confidence in the opening track give way to richer and darker moments while never succumbing to a loss of faith, with one exception:
"Maybe it's me - or is that just an egotistical view on tragedy," sings Michael in Sometimes I Wonder, the CD's musical turning point. There is a sense of authentic emotion as the listener recognizes the pain and heartache in the vocal. "That one was written the day after my son was diagnosed with autism. The recording that you hear was completed two days after that. So it's pretty raw. Nine years on it's still difficult for me to listen to." Questions of guilt and self blame are confronted as well as the hopelessness of not knowing what to do next. "My son's diagnosis was given to us like it was a sentence. There was no pamphlet telling us how to deal with it. It was, pretty much, 'Good luck with that' and we were sent on our way," says Michael.
While Shadow Shines covers a spectrum of emotions, it also runs the gamut musically from rock to pop, alternative to ballads. It even incorporates psychedelic & Indian influenced sounds. "Yes," TeamVico guitarist David Wholihan agrees, "when we got it into our heads that this was going to be a concept album, we definitely got into a classic rock mindset."
Michael Giammatteo has recorded several other albums relating to autism. He and David Wholihan have previously released two in a series of music CDs designed to promote speech for children with autism. "When my son first started speech therapy, his therapist told me that, on commercial children's CDs, they sing too rapidly for our kids to understand the words. She asked me to record some traditional children's songs, but to slow down the tempo of the singing," Michael explains. "In order not to make it sound slow, we rocked up the music. Kids on the spectrum really took to it."
The first TeamVico CD won a Los Angeles Independent Music Award for "Best Children's CD of 2005". It was incorporated into the special needs curriculum of the Simi Valley School District and is being used by Speech and Language Pathologists across the country.
"We were going to begin work on the third children's CD but I felt compelled to tell the story that appears on Shadow Shines," Michael continues. "Nothing like this has ever been done before and I think it's important to get it out there." Shadow Shines' will be released on Wednesday April 2 to mark World Autism Awareness Day.
'Shadow Shines' and other CDs released by TeamVico are available at http://www.teamvico.com
Email: teamvico @ netzero.net
###