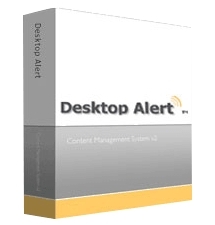 We view achieving this Certification as significant progress in our plan to increase our share of the U.S Government mass notification market and further validates that Desktop Alert Inc. is one of the best choices for enterprise-wide deployments particularly in lock-down environments
Chatham, NJ (PRWEB) March 26, 2008
Desktop Alert, Inc. developers of network-centric mass notification software solutions announced today that the Company's notification software has earned important credentials that will permit it to expand its existing relationship with the U.S. Army. Desktop Alert Inc. has been awarded the Networthiness Certification by the U.S. Army. Only applications that are compliant to the Army's strict standards for security, supportability, sustainability, and compatibility are permitted on the Army Enterprise Infrastructure (AEI).
The Networthiness Certification Program is a collaborative effort between several Department of Defense organizations. In the program, applications are assessed to verify and validate several requirements including network security, network impact, compatibility with the infrastructure, communications and information support. The Networthiness Certification applies to all organizations fielding, using, or managing applications that alter, reside, or require support from any portion of the AEI. The Networthiness process applies to all infrastructure programs that use the AEI network, including the Army National Guard, Army Reserve Command, Department of Defense, Joint, Combined, Federal, non-DoD, and Coalition weapon and information systems, National Security Systems, and all infrastructure programs.
"We view achieving this Certification as significant progress in our plan to increase our share of the U.S Government mass notification market and further validates that Desktop Alert Inc. is one of the best choices for enterprise-wide deployments particularly in lock-down environments," noted Howard Ryan, founder and chief executive officer of Desktop Alert Inc. "Our software is one of the few network-centric mass notification platforms to have achieved this important milestone and may now be installed on any U.S. Army network. We believe that this Certification will help us deepen our relationship with the U.S. Army and broaden sales opportunities within other branches of the United States Military."
About Desktop Alert, Inc.
Desktop Alert provides enterprise-level, network-centric and telephony alerting systems for critical mass notifications, force protection preparedness and critical communications. Desktop Alert enables delivery of audio-visual signals that comply with the Air Force's Full Spectrum Threat Response (FSTR) requirements. Desktop Alert provides enterprise-class, network-centric alerting systems for emergency notifications, force protection readiness, anti-terror warnings and critical communications.
CONTACT:
Howard Ryan
Desktop Alert
346 Main Street
Chatham, NJ 07928
FAX: 866-689-9838
PHONE: 866-689-9838
Website: http://www.desktopalert.net/
###