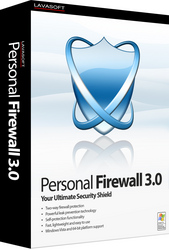 With uncertainty for Internet privacy and cyber attacks at an all time high, a top priority for computer users is protecting their vulnerable data
Gothenburg, Sweden (PRWEB) March 27, 2008
Well-known anti-spyware pioneer, Lavasoft announced today the release of Personal Firewall 3.0, redesigned with the latest in firewall technology to protect computer users against today's IT security threats, such as hackers, keyloggers, botnets, and other forms of malware that attack through unpatched security holes.
"With uncertainty for Internet privacy and cyber attacks at an all time high, a top priority for computer users is protecting their vulnerable data" says Lavasoft CEO Jason King. According to a survey by NCSA Cyber Security, only 4% of Americans understand Firewalls completely, and over 46% are not sure if they have Firewall protection at all. "This leaves a lot of room to take advantage of unsuspecting computer users" says King.
Lavasoft Personal Firewall has an intuitive user interface, without sacrificing security or control. Building on nine years of firewall expertise, it is specifically designed for the home environment and small-to-medium sized businesses. This new version offers selective network access policies and allows PC users to take advantage of the convenient learning mode in order to reduce the number of alerts requiring a response.
Functionality and enhancements include:
•Packet-filtering through a two-way firewall
•Host protection to proactively monitor and block attacks
•Web Control to protect from corrupt websites and drive-by downloads
•Low resource consumption
•Full Windows Vista and 64-bit platform support
More information about this product is available at http://www.lavasoft.com/products/lavasoft_personal_firewall.php
Price and availability
Lavasoft Personal Firewall 3.0 is available immediately at http://www.lavasoft.com. It is competitively priced at $29.95 for a one year license, which includes installation on up to three computers, as well as free technical support. It is also available as a free trial. The Press Pack is available at http://www.lavasoft.com/company/press/.
About Lavasoft
Founded in 1999, Lavasoft is "the original anti-spyware company", with over a quarter of a billion downloads worldwide for the Ad-Aware product. A private company headquartered in Gothenburg, Sweden, Lavasoft provides security solutions for individual consumers and enterprise clients alike. Lavasoft has 4,000 partners in 120 countries.
###