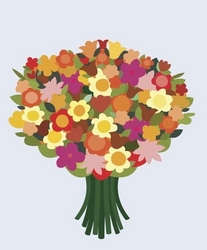 CL&D Digital is really having fun with the promotion
Delafield, WI (PRWEB) March 27, 2008
CL&D Digital, a short-run, quick-delivery printer of consumer goods products packaging and labels for sales samples, prototypes, and comps is launching a new promotion on its Home page asking visitors to submit their idea for a new digital printing application. Each month, CL&D Digital will select the best idea and award the "inventor" by sending a fresh bouquet of flowers to him or her - or to someone they wish to surprise.
The first North American company to purchase two state-of-the-art HP Indigo 4500 printing presses at one time, CL&D Digital can now turnaround short to medium production runs even faster - cutting its already speedy delivery time by 50 percent or more.
"CL&D Digital is really having fun with the promotion," says Tina Chovanec, director of marketing. "We're asking website visitors to 'plant an idea on us' in an effort to 'help digital printing grow.'" The strategy behind the promotion is simple. "Since our customers give us some of our best ideas, we wanted to open up the lines of communication with visitors to our website - perhaps hear ideas that they have on their digital printing wish list and see if we can create an application," Chovanec continues. "The flowers are a fun way to say thank you and to open that dialogue. We will also be changing the reward from time to time to keep it fresh."
Visitors who submit an idea need only provide their first name, company name, and email address so that a representative can get in touch with them. CL&D Digital will choose the best idea each month and make the arrangements to send flowers on the winner's behalf.
High-speed, direct-from-computer-to-press digital printing technology let's you produce as few as one piece. A larger run can be broken down into "batches" - which means different versions of a similar piece can be printed for true customization. Powered by Hewlett-Packard digital offset presses, CL&D Digital can do 4-color process, spot colors, and white inks.
About CL&D Digital and digital package printing
Bob Scherer, Vice President of CL&D Digital, is a respected conference speaker and contributor to industry trade journals on the subject of digital technology and digital package printing. In 1995 along with two partners, Scherer established CL&D Digital as one of the first packaging printers to use Hewlett-Packard (HP)/Indigo digital printing technology. The company's customers - including many Fortune 500 consumer products manufacturers - count on CL&D Digital's full production run quality for their package and label sales samples, prototypes, and comps.
Digital printing can help a manufacturer avoid the high costs and long lead times associated with conventional printing. Depending on the quantity and number of colors, digital printing can cost up to half as much as conventional printing - in part because digital printing is achieved direct from the computer without plating. Digital printing can allow for less waste and storage, too, by printing only the quantity needed. It can also provide the flexibility of showing different versions of the same packaging at minimal cost, which offers the capability of moving a product into niche markets once deemed too cost prohibitive.
In addition to digital printing and packaging dry goods including food, candy, coffee, sundries, and personal care items since 1995, CL&D Digital has the capability of overseeing cold packaging -- the packaging of refrigerated foods in a consistent 38 degree-temperature warehouse, or frozen foods in zero degree-temperature warehouse, both within over 600,000 cubic feet of state-of-the-art, ASI-certified space. CL&D Digital is certified by The American Sanitation Institute (ASI) for food contact packaging and non-food contact packaging. CL&D Digital is also AIB-certified by the American Institute of Baking.
Most recently, CL&D Digital has expanded its service offerings to include complete design services from "thought to consumer." Brand development, POP displays & structural design & engineering, and contract packaging services are now available.
Members of the media can contact Bob Scherer at 262.569.6732 or 262.391.3984, or email at: bscherer@clddigital.com. CL&D Digital can be found on the Internet at http://www.clddigital.com.
###