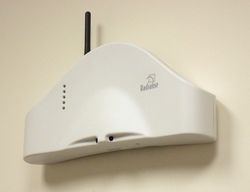 We are not a Wi-Fi location company
Andover, MA (PRWEB) March 27, 2008
Radianse, a pioneer in real-time location for hospital asset tracking, patient flow and clinical effectiveness applications, announces its receivers will plug-and-play on hospital's existing Wi-Fi (2.4 GHz) networks. This will simplify and speed installation, without sacrificing location accuracy -- guaranteed based on the company's continued use of its patented location software, active-RFID and the 433 MHz UHF band to calculate location.
Already ahead of the curve in clinical relevancy and location accuracy, healthcare's tracking pioneer Radianse, Inc. is poised to take leadership in ease and speed of installation for real-time location systems (RTLS).
New Radianse receivers will plug-and-play on hospitals' existing Wi-Fi (2.4GHz) networks for a faster, simpler RTLS installation free of dust or other disruption to care.
To assure hospitals of interference-free operation, accurate room-level precision and support for patient tracking, throughput and clinical effectiveness applications, Radianse will continue to use its patented algorithms, active-RFID and the 433 MHz UHF band to calculate location.
"We are not a Wi-Fi location company," said Paul Tessier, Radianse chief strategy officer. "Rather, this offers the best of both worlds to the hospital that simply wants to leverage an investment in Wi-Fi. We use the existing WiFi infrastructure for what it was intended -- to transmit data - and the Radianse location technology for accuracy and precision across both hospital asset tracking and patient tracking and other clinically-relevant applications. Our clients need to know that a patient is in triage, not just in the ED; and that a device is clean and ready, not just that it's in the unit."
Radianse also announced enhancements to its location software, enabling greater flexibility in the placement and number of receivers required to achieve room-level location precision, further reducing installation cost
The new Wi-Fi receiver, software updates and the recent news of an even smaller, lighter and disposable Radianse patient active-RFID tag, priced for ubiquitous deployment, are part of the Radianse vision to enable evidence-based management - to help hospitals document and drive quality and patient-safety processes, improve clinical effectiveness and create performance dashboards for interventional management.
Radianse system accuracy, documented at 100 percent in a double-blind, peer-reviewed clinical study, is proven daily in dozens of U.S. hospitals where Radianse Reveal tracks and measures interactions among patients, staff and equipment.
About Radianse
Radianse, Inc. provides hospital asset tracking and patient tracking and workflow solutions for healthcare. Hospitals use Radianse Reveal to see, analyze and respond to care as it happens, improving quality, safety and opportunities to reduce costs and increase revenue. For more information, go to http://www.radianse.com.
# # #