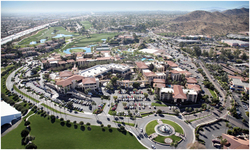 Combined with our recent renovations and more in the works, we believe that we are creating a guest experience like no other in Arizona
Phoenix, AZ (PRWEB) March 27, 2008
Arizona Grand Resort, formerly Pointe South Mountain Resort, today announced its membership to the Preferred Hotels® & Resorts Ultimate Luxury Collection, a distinction earned by only the most outstanding independently-owned and operated hotels in the country.
"Exceptional customer service tops our list of priorities and we've reached new heights," said Sam Grossman, founder of Grossman Company Properties, the company also known for its reinvigoration of the Arizona Biltmore Resort during the 1990's. "We take a hands-on approach with each of our properties and are excited that our amenities and service initiatives have been recognized by such a well-regarded organization as Preferred Hotels & Resorts. Their mark of excellence is truly an honor for an independently owned and operated luxury hotel such as the Arizona Grand Resort."
Preferred Hotels & Resorts requires rigorous testing of member properties that join the Ultimate Luxury Collection, including an extensive 1,600-item Standards of Excellence™ quality assurance program that has been honored with the "Best Practices Champion Award" by Cornell University.
This distinction highlights Arizona Grand Resort's renewed commitment to excellence following its purchase by Grossman Company Properties in 2006. Since taking ownership, Grossman has implemented a service culture designed to elevate the guest experience, created a new employee training program focused on customer service and personal attention, and initiated a $52 million renovation plan for the resort.
A three-phase renovation process began in 2007 with exterior building and landscaping enhancements, a new property lighting concept as well as guest suite enhancements. Total renovations, scheduled for completion in 2009, will include all 640 guest suites, restaurants, spa, a redesigned golf course and a brand new resort lobby complete with lobby bar and specialty restaurant.
"We're making history with these grand changes and are confident that our unprecedented revitalization will broaden our appeal to leisure and business travelers, as well as local residents," said Arizona Grand Resort Managing Director Richard Behr.
Additionally, 104 new one-and-two bedroom luxury Arizona Grand Villas are being added to the resort providing unique ownership opportunities. The Villas feature highly upgraded resort amenities and offer golf course, Oasis Water Park and city views.
"Combined with our recent renovations and more in the works, we believe that we are creating a guest experience like no other in Arizona," said Grossman.
About Arizona Grand Resort
The 640-suite Arizona Grand Resort is located on 164-beautifully landscaped acres at the base of the spectacular South Mountain Preserve. A member of the Preferred Hotels® & Resorts Ultimate Luxury Collection, it offers the 7-acre Oasis Water Park, an award-winning 18-hole golf course, five specialty themed restaurants, the full service Arizona Grand Athletic Club & Spa and 117,000 square feet of meeting and function space, including a 20,000-square-foot exhibit pavilion. The AAA Four Diamond rated Arizona Grand Resort recently began a $52 million renovation to enhance the property including all guest suites, main lobby, spa, golf course, and restaurants. The resort has also added Arizona Grand Villas, which offer resort ownership opportunities through 104 new one- and two-bedroom luxury Villas. Arizona Grand Resort is independently owned and operated by Grossman Company Properties (GCP), one of the premier commercial and residential developers in the western United States. During the past 45 years, GCP has built, developed and managed more than 14 million square feet of high-quality properties including the Arizona Biltmore Resort, Biltmore Fashion Park, and the Phoenix Spectrum Mall. More information on the resort is available at http://www.ArizonaGrandResort.com.
About Preferred Hotel Group
Preferred Hotel Group is a global leader in the hospitality industry, delivering high-performance sales, marketing and technology solutions to more than 600 independent hotels and resorts in over 65 countries. Its family of brands represents a collection of the finest hotels in the world and includes: Preferred Hotels® & Resorts (http://www.preferredhotels.com), Preferred Boutique (http://www.preferredboutique.com), Summit Hotels & Resorts (http://www.summithotels.com), Sterling Hotels (http://www.sterlinghotels.com) and Historic Hotels of America (http://www.historichotels.org). For more information please visit http://www.preferredhotelgroup.com.
In Fall 2007, the company entered the luxury real estate market with the launch of Preferred Residences - a membership and exchange program for luxury shared ownership resorts that provide an exceptional level of service and amenities. Properties are held to exacting standards derived from the same Preferred Global Standards of Excellence™ on which the company has built its 40-year heritage in the hospitality industry. For more information please visit http://www.preferredresidences.com.
# # #