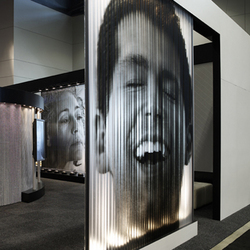 Most people wouldn't associate Muzak with visual merchandising or store design
Fort Mill, SC (Vocus) March 27, 2008
For the third time, Muzak has claimed top honors for their booth experience at GlobalShop, the world's largest annual retail design event. The business music and messaging company received the Best Booth in Visual Merchandising award from DDI magazine and Outstanding Booth from Visual Merchandising and Store Design magazine. GlobalShop is recognized as the largest international expo featuring the most innovative design, products and technologies in the global retail marketplace.
"Most people wouldn't associate Muzak with visual merchandising or store design," said Bob Finigan, vice president of product and marketing for Muzak. "But music has the most direct -- and most powerful -- impact on the retail customer experience. And when music is combined with in-store messaging, sound system and visual solutions that create complete and authentic brand experiences, the results are clear: memorable customer experiences that stand out even in challenging economic times."
On the opening day of GlobalShop, Muzak announced that the company is adding a comprehensive digital signage offering, called Visual Solutions, to its suite of audio and visual branding services. The offering debuted in Muzak's GlobalShop booth, in a visually arresting high-definition image gallery.
The concept for the booth was built on "Expressions," and featured hundreds of images of faces expressing Angst, Desire, Elation and Pride on 14 high-definition plasma screens as well as custom music programs that evoked each emotion. Booth attendees became part of the experience by being professionally photographed expressing one or more of those four emotions, then seeing their own photos added to the visual display throughout the event.
"The initial group of photographs featured many of the nearly 1,300 Muzak team members who support our clients. They all have their own unique personality, and a very personal way of expressing themselves. So does a brand. And what Muzak does is create brand expressions that speak to customers on a very individual and very personal level -- by making the customer experience a human experience," Bob Finigan added.
Muzak worked with Grant Design Collaborative, based in Atlanta, to translate these ideas into the 30-by-40-foot structure. "Our concept and design for Muzak's 2008 GlobalShop exhibit was to facilitate co-creation between the bellwether brand and their retail customers," said Bill Grant, Grant Design Collaborative president. "Muzak's audio architecture embodies the art and science of brand expression, and post-modern consumers assign value and meaning to memorable emotional experiences. Grant Design Collaborative designed this exhibit to showcase Muzak's unique ability to engage and navigate the consumer psyche through fluctuations in the retail environment."
Muzak plans to use the exhibit again at several tradeshows throughout the year.
About Muzak
As a leading provider of business music, Muzak creates experiences that reach more than 100 million people daily. Some of the biggest brands in business, from Ann Taylor to Kinko's/FedEx to McDonald's, work with Muzak to enhance their brand image in hundreds of thousands of client locations. Muzak creates a wide variety of core and custom music experiences for clients around the world. Muzak creates custom on-hold and in-store voice messages, and designs and installs professional sound systems, commercial television, drive-thru systems, digital signage, soundmasking systems and more through its national network of sales and service locations. For more information, visit Muzak.com.
###