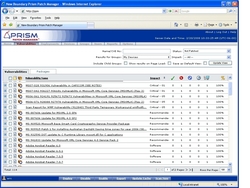 Prism Patch Manager solves the problem by automating patch management to reduce risk, demonstrate compliance, and lower IT costs.
Minneapolis, MN (PRWEB) March 28, 2008
New Boundary Technologies®, the automated IT management innovator, today announced the release of Prism Patch Manager 6.4, which automates patch management to simplify proactive vulnerability management - from real-time assessment and remediation to validation and compliance reporting.
With more than 6,000 software vulnerabilities discovered in 2007, and a growing criminal black market that trades in software vulnerabilities, maintaining secure Windows configurations is a major and costly IT challenge. Prism Patch Manager automatically secures Windows systems from software vulnerabilities to support compliance with corporate policies and regulatory requirements.
According to the SANS Institute, the world's largest information security training and certification organization, the top two best practices for preventing IT security risks are:
1. Configuring systems for maximum security while allowing full business functionality; and
2. Using automation technologies to ensure systems remain securely configured and fully patched.
Prism Patch Manager delivers the innovative automation technologies and robust functionality to make those best practices simple and seamless IT processes. Key features of Prism Patch Manager 6.4 include:

Agent-based architecture that maximizes network efficiency and protects devices when disconnected from the network to ensure all systems and applications are compliant with standards and policies.
Robust scalability that meets the needs of large, complex, and highly distributed environments.
Patch Baselines that automatically configure Windows systems to a desired patch compliance level.
Automated patch level maintenance that sustains a patch baseline for ongoing compliance.
Ongoing patch monitoring and validation for maximum coverage.
Comprehensive reporting that demonstrates software patch compliance to management and auditors.
"Growing compliance pressures and limited resources create a challenge for IT departments to keep up with the sheer volume of vulnerabilities and patches," said Tom Diamond, president of New Boundary Technologies. "Prism Patch Manager solves the problem by automating patch management to reduce risk, demonstrate compliance, and lower IT costs."
Prism Patch Manager leverages innovative vulnerability assessment technologies that deliver the most accurate threat detection available, and one of the world's largest patch repositories to deliver accurate, rapid patch management. Prism Patch Manager collects, analyzes, tests, and deploys patches throughout the organization with minimal impact on IT staff, network resources, and end-users. And Prism Patch Manager continuously monitors systems to maintain patch level compliance that supports best practices and regulatory mandates. New Boundary Technologies offers Prism Patch Manager as a component of its Prism Suite™ desktop management suite and as an individual point solution.
About New Boundary Technologies
New Boundary Technologies develops innovative software solutions for IT management and remote equipment monitoring and control. The company's Prism Suite™ automates asset management, software deployment, desktop configuration management, patch management, and packaging. Policy Commander® automates computer security policy enforcement. Radiem® technology monitors and controls remote and mobile equipment via the wireless Internet. Providing the highest quality software and customer support, New Boundary Technologies' consistent growth has been recognized for five consecutive years in the Deloitte and Touche Fast 50 program. Founded in 1985, New Boundary Technologies is headquartered in Minneapolis, Minnesota. For more information, visit http://www.newboundary.com or call 800-747-4487.
# # #