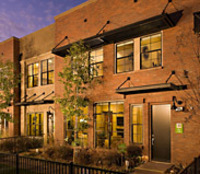 to ghost town living and
SEAL BEACH, CA (PRWEB) March 27, 2008
In-town or ghost town? Olson Homes, California's largest builder of new urban and sustainable living communities, will make the decision easy for buyers over the next two weekends. If homebuyers purchase by April 6, Olson Homes will include a free washer, dryer and refrigerator, plus cover closing costs at six of its Southern California new-home communities: Willow Walk in Compton, Fountain Walk in Cerritos, Depot Walk in Orange, Founders Walk in Buena Park, Lotus Walk in Garden Grove and SOCO Walk in Fullerton. These incentives reflect Olson's philosophy of creating "In Town, In Style, and In Reach" neighborhoods that are not only reasonably priced, but are also located in vibrant city centers and near transit hubs that connect homeowners to all of Southern California's hottest destinations from downtown L.A. to San Diego and Santa Barbara. According to Sandra Elliot, Sales Counselor at Olson Homes Depot Walk in Old Towne Orange, "For the next two weekends, Southland homebuyers have every reason to say "goodbye" to ghost town living and "hello" to in-town living by discovering what owning an Olson Home is all about. Living instead of driving."
In Compton, the gated community of Willow Walk offers a chance to own one of the first brand new homes in Compton--at a price that's affordable. These 124 brand-new townhomes feature 1,172 to 1,506 square feet, two to four bedrooms and two and one-half to four baths, plus an attached two-car garage for prices starting from $299,900. Many of the homes include private porches and decks, in addition to designer finishes and state-of-the-art amenities. A neighborhood park adds a real sense of community at Willow Walk. Those who are lucky enough to call Willow Walk home will also find a Metro Blue Line station next door, plus several new stores and restaurants close to home, including the new Gateway Town Center, a 500,000 square-foot mega-shopping center with a Target, Home Depot, Best Buy, Staples, Shoe Pavilion, 24 Hour Fitness and other retail establishments. Models are set to open soon. For more information about Willow Walk, please call (310) 609-1373 or log onto http://www.OlsonHomes.com. The sales office is located at 350 N. Willowbrook Avenue in Compton, CA 90220.
At Fountain Walk in Cerritos, low and moderate income buyers 62 years and better will have an opportunity to experience home ownership near shopping, public transportation, the Cerritos Senior Center at Pat Nixon Park and the 91, 5 and 605 freeways. These brand new Spanish-style flats offer up to 883 square feet of living space and a choice of one- or two- bedrooms, one bath, one-car garage, decks and interior laundry rooms. Onsite parking and stylish amenities throughout add comfort and convenience, while the gated Fountain Walk Clubhouse provides a wonderful place to relax with neighbors and friends. Prices start from $197,000, with affordable restrictions. For more information, please call (562) 234-9873, log on to http://www.OlsonHomes.com, or visit the sales office located at 3437 Cascade Court in Cerritos, CA 90703.
Not far away in Orange, CA, Depot Walk (LEED CERTIFIED) puts homeowners only two short blocks from all the charm and excitement of Old Towne Orange and the Orange Circle, where they'll discover rows of antique shops, galleries, restaurants, nightlife. In addition, the Orange Metrolink station is right next door, making transit travel easy. Depot Walk's spacious, contemporary, three-story California Brownstones and live/work spaces feature 1,277 to 2,010 square feet, private decks, a host of designer amenities and attached two-car garages. And since Depot Walk is a LEED-certified and all-solar community, a variety of environmentally friendly features will not only reduce the impact on Earth's limited resources, but also on homeowner's pocketbooks (thanks to lower energy bills). Prices start from $448,990. To find out more about Depot Walk, call (714) 744-8167, log on to OlsonHomes.com, or visit the sales office at 561 West Maple Avenue in Orange, CA 92868.
In Buena Park, the final homes at Founders Walk are located just minutes from all the best restaurants, shopping and entertainment in downtown Buena Park, plus the new Metrolink train station--which is part of the community. The spacious, two- and three-story homes offer 1,502 to 1,676 square feet, up to three bedrooms and three and one-half baths, and come loaded with designer amenities. state-of-the-art Whirlpool appliances, premium tiling and an attached two-car garage. Many homes even include covered porches and private balconies. Homeowners at Founders Walk also enjoy access to a clubhouse, pool and playground, perfect for enjoying quality time with family or friends. Prices start from $479,990. For more information on Founders Walk, please call (714) 736-0351, log on to OlsonHomes.com, or visit the sales office at 31 Walter Way in Buena Park, CA 90621.
Situated in the heart of Garden Grove, Lotus Walk blends a serene home setting with a dynamic in-town locale. Just minutes from all of the area's most exciting restaurants, nightlife, shopping and entertainment, Lotus Walk puts residents right at the center of the action, in one of Orange County's most central and up-and-coming areas. Homeowners will enjoy cozy amenities, like a warm outdoor fireplace that encourages residents to relax or mingle with neighbors and guests. At Lotus Walk, it's easy to live in complete harmony with seven different floorplans offering 750 to 1,683 square feet, one to two bedrooms, one to two and one-half baths, walk-in closets in the master room, studies or lofts (per plan) and indoor laundry spaces or rooms (per plan). Prices start from $335,990. For more information on Lotus Walk, call the sales office at (714) 537-2323 or visit the website at OlsonHomes.com. Interested homebuyers can also visit sales office and models, located at 12852 Palm Street in Garden Grove, CA 92840.
Set in the heart of Fullerton's thriving South of Commonwealth scene and right next door to a Metrolink station, SOCO Walk defines the quintessential in-town lifestyle, with contemporary new townhomes, California Brownstones and live/work spaces in one of So Cal's hottest new locales. The sleek, urban homes at SOCO Walk feature clean lines and dynamic open spaces, plus plenty of room to spread out with 1,421 to 1,850 square feet, three bedrooms, three baths and attached two-car garages. Most of the homes include office-or-bedroom options too, along with deluxe master suites, indoor washer/dryer spaces, decks, state-of-the-art amenities and stylish designer finishes throughout. Prices start from $399,990--a great deal for chic, brand new homes with a central Orange County address. SOCO Walk is almost 75% sold out. The sales office is located at the intersection of South Harbor Blvd and East Truslow Avenue in Fullerton, CA 92832. Additional information can also be found by calling (714) 578-5005 or logging on to http://www.OlsonHomes.com.
About Olson Homes:
All six of these communities are built by Olson Homes. Headquartered in Seal Beach, California, Olson Homes continues to build stylish new homes in some of California's most exciting neighborhoods. Since 1988, the company has brought the good life in town, in style and in reach by revitalizing "in-town locations" with a variety of attainably-priced homes including live-work, transit-oriented developments, lofts, brownstones and homes with historic architecture. Olson Homes has constructed thousands of new homes during its twenty-year history, putting a convenient, comfortable and vibrant urban lifestyle within reach of millions of Californians. Its reputation is unsurpassed in working with cities to create new neighborhoods within mature communities--which has earned the company many awards over the years, including America's "Builder of the Year." Further information about Olson Homes can be obtained online at http://www.OlsonHomes.com.
Contact:
Alan Sherin, Director of Web Marketing
The Olson Company
562-370-9348
http://www.olsonhomes.com
# # #