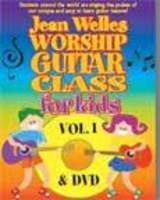 The kid's version of the Worship Guitar Series has been outstandingly received down here. The kids enjoy it. It's at a level they can understand. The parents enjoy it because we don't have a lot of people in our area that provide guitar training or anything like that. Having the DVD and Book together they feel like it's wonderful for their kids
Los Angeles, CA (PRWEB) March 28, 2008
Recently released, 'Jean Welles Worship Guitar Class-TM for Kids' is a Christian guitar instructional Book and DVD for young children. "Studies show that kids learning music have significant improvement of spatial-temporal scores - useful for classes like Math & Science," say Jean Welles, producer of Christian Guitar products at worshipguitarclass.com. "Learning a musical instrument helps in brain development and growth."
Learning to play a musical instrument has sadly not been a high priority in most schools. Welles offers this alternative program that families can use at home, for example homeschoolers. These Christ-centered lessons contain easy to play worship songs, even one written by a 6-year old.
To help kids learn, the lessons were filmed teaching a 7-year old. The songs reinforce Christian values and there are a few puppet skits, including a closing gospel invitation with puppets.
"The kid's version of the Worship Guitar Series has been outstandingly received down here. The kids enjoy it. It's at a level they can understand. The parents enjoy it because we don't have a lot of people in our area that provide guitar training or anything like that. Having the DVD and Book together they feel like it's wonderful for their kids," says Maureen Spruill, music buyer for Foundation Christian Resource Center in Pleasanton, Texas.
Jean has a Masters Degree in Guitar Performance from USC and she participated in dozens of Master's classes. She has taught and coached guitar students for over 30 years and is a worship leader in the greater Los Angeles area. Her new guitar lessons for children program is available from worshipguitarclass.com and through Christian and Music Retail Stores
###