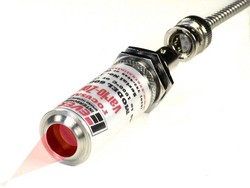 Tucson, AZ (Vocus) March 27, 2008
Everest Interscience offers miniature infrared temperature sensors -- their Series 6000 --that are only 7/8 inch in diameter by 2-1/2 inches long. Both the signal and power conditioning are housed in these small sensors. There are no tag-along boxes for this purpose.
These precision infrared temperature-measurement sensors can go many places that conventional infrared sensors cannot. Applications for the Series 6000 Infrared Temperature Sensors would include those where the size of the instrument and the available distance from the sensor to the target is of importance to the operator. Even though they are miniature in size, they also include an important automatic focus feature and a patented Intra-Optical Light Sighting System to verify where the temperature measurement is being taken.
The automatic focus feature is Everest's Vario-Zooom. To change the focus, the operator slowly pushes the front optics in or pulls it out, respectively, to reduce or increase the size of the field of view. After the desired focus has been established and verified by the Intra-Optical Light Sighting System, the focus can be locked in place.
Another major advantage of the Series 6000 Sensors is that they can measure very minute targets. They can be focused down to target spot sizes of one-half millimeter. This makes them extremely useful for taking the temperature of very small objects.
The Intra-Optical Light Sighting System has a Through-The-Lens/Single Lens Reflex (TTL/SLR) feature wherein a pulsating light-emitting diode light is passed directly through the infrared optics, illuminating the target's location, shape, size and surface texture. This takes the guesswork out of knowing where the infrared temperature sensor is "looking."
These instruments come in a low-temperature configuration for use in natural environmental science research and in a high-temperature configuration for use in industry. The full specifications for the Series 6000 Infrared Temperature Sensors can be seen on Everest's website.
Everest Interscience has a complete line of both hand-held and fixed-mounted infrared thermometers and temperature sensors in their product line. Also, Everest manufactures and markets a portable calibration source (Model 1000) that can be used to verify the accuracy of any infrared thermometer.
If you have a particular application in mind and would like our suggestions as to which model to consider, please complete our Application Analysis Form and send it to us. We will get back to you with our recommendations.
###