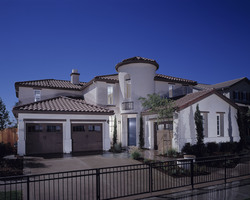 What differentiates these homes from all of the competition out there is that they have been built to the highest standard of quality
Newport Beach, CA (PRWEB) March 27, 2008
A new luxury home valued at more than $700,000 for a buck seems too good to be true, but that really was the starting bid for several of the homes in an online auction currently on the Freedom Realty Exchange website (http://www.FRE.com/193R4). With about two weeks until the bid deadline, prospective homebuyers are jumping on the bandwagon and bidding to get a deal on one of more than 60 brand-new, luxury homes located in several cities across the California Central Valley.
The online auction includes 15 homes in Gridley, a quaint community between Chico and Yuba City; 18 homes in Lathrop, a short commute from the San Francisco Bay Area; and a total of 29 homes in Madera and Kerman, quiet suburbs just outside of Fresno.
Though originally priced as high as $715,000, the Freedom Realty Exchange, which is part of the LFC Group of Companies, the nation's premier online real estate auction marketing firm, is offering these homes with minimum bids as low as $140,000, in addition to the model homes that started at $1. Although most of these model homes are no longer going for their $1 minimum bids, their current high bids are considerably low, so interested homebuyers can still purchase one of these homes at a steal if they act fast.
More exciting news for homebuyers is the recent announcement by the Federal Housing Administration that FHA loan limits in these Central Valley counties have increased significantly, affording potential homebuyers an even better opportunity to buy a new home.
The spacious homes feature three to five bedrooms and two to four bathrooms, and range from approximately 2,000 sq. ft. to over 3,500 sq. ft. Many of these beautifully crafted homes are fully-upgraded and include attractive features like hardwood floors, granite countertops, central air conditioning, energy efficient windows, recessed lighting and walk-in closets.
"What differentiates these homes from all of the competition out there is that they have been built to the highest standard of quality," says Kelly Lovegrove, Director of Operations at the LFC Group of Companies. "We have received rave reviews from prospective bidders who have gone out to visit the properties over the past few weeks. They have expressed how beautiful these homes are and even compared them to 'celebrity' houses," continues Lovegrove.
There has never been a better opportunity to get a deal on that new, luxury California home you've always dreamed of. Forget wasting an entire day at a foreclosure auction in a hotel ballroom or convention center, this online auction makes it simple and convenient to purchase a gorgeous new home at a great price. The bid deadline is Thursday, April 10, so there is still plenty of time for interested buyers to visit the homes, prequalify for financing and place a bid with the click of a mouse. For more information and to register to participate in the online auction, go to http://www.FRE.com/193R4.
Freedom Realty Exchange - part of the LFC Group of Companies
For more than 30 years, the LFC Group of Companies have served numerous Fortunate 500 companies, real estate developers, investors, financial institutions and government agencies by auction-marketing thousands of commercial, industrial, land and residential properties with an aggregate value well in excess of $5 billion. http://www.FRE.com
###