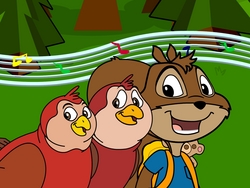 Excite kids about nature by getting dirty and experiencing the moment with them, and then relish how they (kids) intuitively pick up on taking care of it
Marin, CA (PRWEB) March 27, 2008
A "Small house, small budget, small business" can bring any entrepreneur down - but not Stephanie Rach-Wilson, founder of IAGmedia, Inc. Rach-Wilson is the creator of "Into the Great Outdoors", a brand new get-ready series for young children and families curious about exploring nature and the environment.
"Into the Great Outdoors" is a 35-minute animated and live action story filled with mishap, music, and life-long lessons about sharing time with family and being mindful about nature and a world in which so many people share. The DVD is accompanied by a 52-page Story and Activity book, and sing-along CD. Suggested retail is $28.95-$32.95.
Flashback a year ago. With story in hand and animation underway, Ms. Rach-Wilson realized a voice was needed to bring the project and main character to life. While grappling with voice-over talent costs, a little voice gave her the answer. "Mom, I can play Chipper," Avery, her eight year old daughter said. "I've read the script a bazillion times and I know all the songs," she added.
Into the studio they went, side-by-side, teaching each other patience and perseverance. Word-for-word, song-to-song, mother and daughter brought to life the story of an overly curious suburban squirrel taking his first adventure into the great outdoors. The Company launches the series just in time for Mother's Day.
"Excite kids about nature by getting dirty and experiencing the moment with them, and then relish how they (kids) intuitively pick up on taking care of it," Ms. Rach-Wilson says.
Ms. Rach-Wilson brings her job home everyday and both her girls play an integral part in the decision making process. "My girls constantly suggest funny ways to teach lessons about sharing, respect, empathy, and more, because this is the consistent message within our home," she says. "I'm a child of the great outdoors and a 4-H family: head, heart, hands, and health and contribution to family and community transcends all religions, cultures, and beliefs. If everyone said the 4-H pledge and 'mucked' out a pig pen there would be a greater sense of appreciation and thankfulness in the world."
The entire project is created and manufactured in the USA. The launch is supported with a "Less Packaging, More Fun" campaign, encouraging other companies to use a "shrink to fit" mindset when packaging products.
IAGmedia is based in Marin, California. "Into the Great Outdoors" is available at http://www.intothegreatoutdoors.com, and specialty retailers. To learn more, please call 415-271-9603 or email info @ iagmedia.net.
Media Contact:
Stephanie Rach, 415-271-9603
Felicity John Odell, 415-845-7423
###