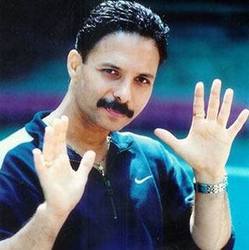 Mumbai, India (PRWEB) March 28, 2008
Popular holistic health guru Mickey Mehta launched his new global initiative, to create awareness towards a disease free society.
Mickey Mehta, aged 46, is today one of India's healthiest and fittest men. He is a leading holistic health therapist and internationally acclaimed health and fitness icons of India. He has integrated the philosophies and essence of Zen, yoga and Vedas to create path-breaking and life altering awareness about holistic and natural practices to stay healthy physically, psychologically and spiritually. His holistic viewpoint has helped many to pave a new path towards self empowerment.
Today Mickey Mehta launched his new global initiative, to create awareness towards a disease free society. Through his website (http://www.mickeymehtahbf.com) and health centre's, Mickey aims to communicate to people how they can work towards a disease free society
According to Mickey -- Good health is the total integration of mind, body and soul. Health encompasses five dimensions of wellness -- physical, physiological, psychological, emotional and spiritual. Good health and fitness is not a fad. It is a pre-requisite for a healthy life. One has to stop the constant chase for unrealistic goals that cause great harm to your physical and mental health. These not only deteriorate the quality of our existence, but also lead to degeneration, disintegration and erosion. To counter this, one must begin to heal oneself with an integrated approach. Good nutrition, appropriate foods, regular moderate exercises, yoga, meditation and good rest are essential to remove all energy blocks. The work-out needs to be done on a daily basis with slow conscious breathing, stretching thru yoga, pilates, dynamic suryanamaskar and calisthenics. All these will improve one's sense of equilibrium, co-ordination and will give a new lease of life to the body in totality. They also have therapeutic benefits - control cholesterol, help to reduce weight, normalize blood pressure and improve heart lung function.
If every individual follows this diligently, we will not be away from our goal of a disease free society and his mission to create a disease free society abundant with love, peace and harmony.
Mickey Mehta has trained and owes his success to leading industrialists of India, super models, bollywood personalities and many models.he has been associated with Femina miss india ( 12 yrs ), Grasim Mr India ( 6 yrs ), reality shows on television like Fame Gurukul, Channel-V pop stars, channel v- get gorgeous, and mickey mehta's show on Zoom.
###