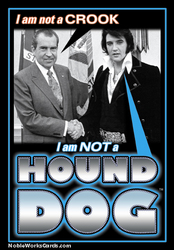 Elvis has left the building.
Hoboken, NJ (PRWEB) March 31, 2008
NobleWorks, Inc. is proud to announce a new partnership with Elvis Presley Enterprises, Inc. (EPE) that will feature The King of Rock 'n' Roll in a series of hilarious new greeting cards for 2008.
For the first time, Elvis Presley's legendary style will be paired with NobleWorks' trademark wit in a new line of Christmas, birthday and everyday greeting cards. NobleWorks is looking forward to joining The King of Rock 'n' Roll at center stage, following the success of its comical card line featuring another Las Vegas icon, Liberace.
Highlights from the new line include the iconic image of Elvis and Richard Nixon, with the president saying "I'm not a crook" and The King responding "I'm not a hound dog." Another card features a photo of a young Elvis leaving the front door of Graceland and is accompanied by the caption: "Elvis has left the building."
All the new Elvis cards are available for order at NobleWorks' flagship site, TheHornyRabbit.com, or as completely customizable print-on-demand cards at NobleWorksCards.com.
Please call NobleWorks at 800-346-6253 (x28) or 201-420-0095 (x28) for more information.
About NobleWorks, Inc.:
Headquartered in Hoboken, New Jersey, and founded in 1980 by Christopher Noble, NobleWorks Inc. is the world's funniest greeting card company. The originator of Talk Bubbles, NobleWorks features cards by a long list of internationally-acclaimed cartoonists, many of whom are regular contributors to The New Yorker, Playboy, Penthouse, National Lampoon and MAD magazines. NobleWorks Inc. also publishes cards on behalf of an ever-growing stable of ground-breaking artists and designers, including Comic Debris and Emily the Strange. With more than 10,000 original designs in its archives and over 8,000 retailers nationwide, NobleWorks Inc takes full responsibility for reminding folks everywhere not to take life too seriously.
About Elvis Presley Enterprises, Inc.:
Elvis Presley Enterprises, Inc. (EPE) is based in Memphis, Tennessee with additional offices in Los Angeles, California. In addition to Graceland and its related attractions in Memphis, including the Heartbreak Hotel, EPE is aggressively involved in a worldwide licensing program, merchandising, music publishing, and television, film, video and Internet projects. For more information on EPE and Graceland, visit http://www.Elvis.com. EPE is a subsidiary of CKX, Inc. (http://www.CKX.com), a publicly traded company listed on the NASDAQ National Market® under the ticker symbol "CKXE."
© EPE, Reg. U. S. Pat. & TM. Off.
###