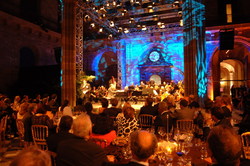 This was an important event, not just for us but more importantly for our clients and our network of partners.
Barcelona, Spain (PRWEB) March 28, 2008
Plácido Domingo, indisputably one of the world's greatest opera stars wowed over 300 executives, business owners, politicians, ambassadors and key players in the global energy sector at a Corporate Event in Barcelona organised with the assistance of Conference Coordinator Spain
The event began with a cocktail reception, followed by a gala dinner and private performance by the internationally acclaimed opera singer who was accompanied by soprano Virginia Tola.
The event's climax occurred after a winning performance and long and resounding ovation, when the tenor from Madrid personally greeted the guests.
More than 90 people from Conference Coordinator Spain's team covered all aspects of the event from general event management, catering, logistics and security of this remarkable corporate event in Barcelona.
In under two days, Conference Coordinator Spain's senior design and construction team recreated a stage and dressing rooms characteristic of an international opera house. From behind the scenes, one mobile unit brought the whole immaculate ceremony to life.
"We are thrilled that everything went smoothly and according to plan," remarked a relieved Sarah Madison (Event Coordinator), "This was an important event, not just for us but more importantly for our clients and our network of partners."
Conference Coordinator Spain's main business is incoming events and meetings tourism from all over the world in the form of groups and companies for events, conferences and incentives. They are well known in the industry for their creativity and high levels of service.
"Even though we continue to grow we still offer a very personal service to our clients, we are able to save them time and money by organising all of their requirements through one portal," explained Sarah, "be it planning and coordinating a large scale corporate event in Marbella or simply locating a conference venue for the day for a small business meeting."
Cheniere Energy sponsored the gala dinner, which was held in recognition of the participants of LNG15, the international energy congress that gracefully shared the limelight with the event's principal act.
More details about the event can be seen at the Corporate Events, page at the company website.
###