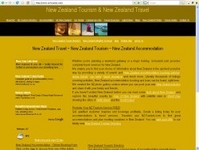 Auckland, New Zealand (PRWEB) March 28, 2008
The new renovated website of NZ-TOURISM.COM attempts to put together a complete package of information and facilities for potential travelers to New Zealand. Nz-tourism.com is an Internet resource that intends to assist tourists and travelers planning their visit to New Zealand. It has helped travelers traveling to New Zealand with flight schedules, accommodation and car rentals for 2 years now.
The new website builds on the earlier features by enhancing the flights search, car rental, and accommodation facility location. A complete section has been added that provides general information about New Zealand, its economy, weather, culture, and sports etc. The updated website has loads of pictures, city travel guides, and information about attractive tourist destinations to assist travelers sketch their New Zealand travel plan.
The new improved website boasts of a tourism directory where in a wide range of accommodation facilities are listed ranging from houses, apartments to luxury hotels and villas. The new pictures section contains pictures of New Zealand flora, fauna, and landscape. A special section allows users to register themselves and share their travel pictures to New Zealand with friends and potential travelers.
Another new section facilitating online booking of Campervan Rentals has been added. Campervan rentals provide a convenient option to many visitors to merge accommodation and travel together. This brings down travel expenses and includes sightseeing and a cross country trip in a single bargain
The website also includes a section on New Zealand travel insurance. Top notch companies covering low cost travel insurance coverage are listed. A news section has been added for enthusiasts who want to be informed on latest happenings about New Zealand policies, business, Economy, culture, sports etc.
Visitors to the site can browse through the directory listings and snap up a perfect holiday in New Zealand by making use of the comprehensive travel services provided by nz-tourism.com. Some of these facilities are:

Airline ticket booking.
Online accommodation reservation throughout New Zealand.
Online car rental booking.
Campervan rentals.
Travel insurance.
Online picture gallery where users can add their travel pictures to share with friends and potential visitors.
New Zealand map and all major city maps
Travel guide to 16 major cities of New Zealand.
Current news making headlines about New Zealand.
Nz-tourism.com maintains directory listings in its database to be accessed by all visitors to the site. The new website provides free membership feature for property and business owners to register and advertise their services for free. Members can add new services or modify existing services through individual accounts. This helps in continual growth of nz-tourism.com website as more and more information and services can be made available to potential travelers.
To learn more about travel to New Zealand and plan your trips please visit http://www.nz-tourism.com/. The site has a "contact us" section and welcomes comments, suggestions and queries for additional information from its visitors.
Contact:
Robert Toth, website owner
NZ-tourism.com
Email: info@nz-tourism.com
http://www.nz-tourism.com/
# # #