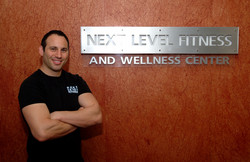 We can find the perfect partner through fitness
Irvine, Calif (PRWEB) March 31, 2008
ScienceDaily, an online source for research news, reported on March 21 the findings of a Brigham Young University study in which professor, Julianne Holt-Lunstad, found that happily married adults have lower blood pressure than singles with supportive social networks, suggesting marriage may literally be a matter of the heart. Today, Steve Hochman, founder of Next Level Fitness in Irvine and a certified personal trainer, agrees with Holt-Lunstad's findings based on his own experiences and suggests that putting a new relationship partner through a grueling fitness workout might help determine if the relationship could lead to a happy marriage.
Holt-Lunstad wrote, "There seem to be some unique health benefits from marriage. It's not just being married that benefits health - what's really the most protective of health is having a happy marriage."
Various studies indicate that approximately 53% of marriages in California end in divorce. Most relationships start off really great, with the excitement that comes with a new relationship, but, once the novelty wears off, people find out whether they are truly compatible. Hochman, who as of today has been happily married for eight years, claims to have found a way to test compatibility at the earliest stages of a relationship.
"We can find the perfect partner through fitness," Hochman says. "Like at least half the U.S. population, I used to have terrible luck finding a good match for me. One day I brought a lovely woman whom I was dating to the gym. I gave her one of my signature grueling workouts, and when she was pushed past her threshold, her true personality came out. I knew I was on to something."
Come Out, Come Out Whoever You Are…
Certain circumstances in life push you to your limit, and sometimes even beyond. When people get to their breaking point, their strengths and weaknesses become very apparent.
"It's like giving them a truth serum," says Hochman. "Unfortunately, a lot of the situations that induce stress show us that our partners are not very healthy for us. I started bringing anyone that I dated to the fitness center to go through one of my workouts. I learned as much about someone's character in the course of a one-hour workout as it would normally take me about three months to learn."
Keeping the Relationship Strong
This matchmaking technique does not just work for finding the perfect partner; it doubles as a relationship strengthener. After the newness of a relationship is gone, a lot of couples find themselves bored with nothing exciting to share. Hiring a personal trainer to put a couple through a heart-pounding, sweat-pouring, exhausting workout, is a great way to put the excitement back in to the relationship.
Hochman says, "It is so bonding when couples get and remain physically fit together through workouts. After they get in their vehicle following a workout, panting and dripping with sweat, their entire drive home consists of conversations like, 'I can't believe he made us run that fast for that long. Didn't you think your lungs were going to explode? I can't even lift my arms; can you?' They have smiles on their faces all the way home."
In Hochman's experience, partners who work out together from the beginning and pass the initial stress test of how they respond to the rigors of a grueling workout find that they are compatible and remain happy together.
"The secret to a fit and happy marriage really is a matter of the heart, literally and figuratively," Hochman adds.
About Next Level Fitness
Next Level Fitness is local at 17811 Skypark Circle, Suite E in Irvine, Calif. 92614. Next Level Fitness also offers a Pilates studio and massage and chiropractic services. For more information: http://www.nextlevelfitness.net or call 949 274-7954.
###