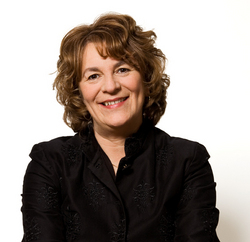 Gerri is well known as an award-winning, high-tech trail blazer. What most people don't know is that she is equally passionate about, and involved in, bridging the gap between public and private sectors.
Vancouver, BC (PRWEB) March 28, 2008
In an awards ceremony on April 10, the Canadian Public Policy Forum will pay tribute to acclaimed British Columbian Dr. Gerri Sinclair for her outstanding contribution to the quality of public policy and public management in Canada. Specifically, Sinclair will be honoured for her counsel to the Canadian and B.C. Governments about the development of innovative telecommunications and information technology policy. She will receive the esteemed award at the 21st Annual Testimonial Dinner in Toronto, along with fellow honourees Mr. David A. Dodge, Former Governor, Bank of Canada and Ms. Sheila Watt-Cloutier, Inuit and Environmental Activist. Previous recipients of this award have included former federal finance ministers Michael Wilson and Don Mazankowski and former premiers Bob Rae and Peter Lougheed.
"I am deeply honoured to be the recipient of this prestigious award, said Sinclair. "And while I am gratified by my work in the area of Telecommunications as well as Information & Communications Technology, I look forward to further government initiatives that will reclaim Canada's leadership position in broadband delivery. We need advanced Internet services for all our citizens, particularly those in underserved communities in rural and remote areas, and even in our larger urban centres."
Currently, Sinclair is the Executive Director of the Masters of Digital Media Program at Vancouver's Centre for Digital Media, Great Northern Way Campus. Recently, she chaired The Telecom Policy Review, advising the Federal Government of Canada on the policy and regulatory environment required to support an advanced telecommunications framework.
"Gerri is well known as an award-winning, high-tech trail blazer. What most people don't know is that she is equally passionate about, and involved in, bridging the gap between public and private sectors." explained Paul Lee, former President of EA's Worldwide Studios. "This award is a testament to her dedication to bettering public policy in Canada."
Sinclair's cross-domain career includes more than 20 years' experience spanning the fields of Internet and new media technology, entrepreneurial business, academic research, and government policy. A former Visiting Scientist at IBM Research in New York, Sinclair was also the former CEO of NCompass Labs, an Internet start-up acquired by Microsoft in 2001. In addition, she was the first President of the British Columbia Government Premier's Technology Council. A more detailed biography can be found at http://mdm.gnwc.ca/?q=executive_director .
This year's Testimonial Awards will be co-hosted by the Hon. Danny Williams, Premier of Newfoundland and Labrador and Dr. Indira Samarasekera, President of the University of Alberta. More than 1,200 high-level representatives from government, industry and academe are expected to be in attendance. Since 1988, the Public Policy Forum has honoured more than 70 leading Canadians.
The Canadian Public Policy Forum, an organization founded to encourage dialogue and foster understanding between Canada's policy makers and the private sector, recognizes Canadians who have had a significant impact on Canadian public policy.
About the Public Policy Forum
The Public Policy Forum (http://www.ppforum.ca) is an independent, non partisan organization dedicated to the pursuit of excellence in government.
About the Masters for Digital Media Program @ Centre for Digital Media
This innovative, full time professional graduate degree program offers students team-based experiences focused on project learning in close collaboration with the international digital media industry. The MDM is a 20-month program, including a paid, summer internship.
The MDM Program (http://www.mdm.gnwc.ca) is housed in the Centre for Digital Media, a new multimedia facility located at Vancouver's Great Northern Way Campus (GNWC). The GNWC is a unique university campus that combines the strengths of four leading academic institutions: the University of British Columbia, Simon Fraser University, Emily Carr Institute of Art + Design, and the British Columbia Institute of Technology. MDM graduates receive a master's degree bearing the seals of the four GNWC partner institutions.
# # #