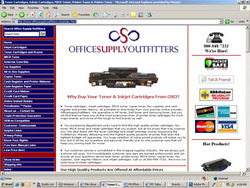 At OfficeSupplyOutfitters.com, we offer online pricing with the kind of customer service that you would expect from a small brick and mortar store
Carlsbad, CA (PRWEB) March 28, 2008
The office supply industry serves millions of customers. However, for much of the industry, service involves making a product available for purchase, with no interaction before and after the sale. When customers need assistance, they receive little, if any at all. OfficeSupplyOutfitters.com, a veteran imaging supplies company, incorporates fresh ideas in an otherwise stale industry, and employs the keys to good customer service with the hope that it will increase their business.
OfficeSupplyOutfitters.com is in a competitive market. After spending 37 years in the imaging supplies industry selling cheap inkjet cartridges and toner cartridges, OfficeSupplyOutfitters.com has found that customer service, not necessarily price, is what differentiates themselves from their long list of competitors. For example, when a customer is looking for an Hp LaserJet 2300 toner cartridge, there is an enormous number of places where they can purchase that item. However, OfficeSupplyOutfitters.com believes they are the only place where that customer can get the service they need.
"At OfficeSupplyOutfitters.com, we offer online pricing with the kind of customer service that you would expect from a small brick and mortar store," says President and Founder, Michael Gardner, "Buying a new compatible toner or inkjet cartridge from OfficeSupplyOutfitters.com will always be the best choice, and we bet our reputation on it."
OfficeSupplyOutfitters.com, abbreviated OSO, employs several keys to good customer service; beginning with answering the phone. "Call ten of our competitors and see how many actually answer their phones," Gardner challenges, "Then call us and you will be able to speak to a friendly, high quality staff member. Our customer service is unmatched in our industry."
In addition, OfficeSupplyOutfitters.com has an enormous selection to meet your needs. Recently, OSO was the first to market for the Dell 1720 and 1720dn compatible brand black laser toner. OfficeSupplyOutfitters.com is frequently the first to market for compatible toner and inkjet cartridges for new printers, copiers, and fax machines, and OSO works on low margins to make their products much more affordable than the name brands.
"Value equals quality, price, and service," says Gardner, "and my customers have my word that I will provide them with value on each and every toner and inkjet cartridge order." For a product listing, including cheap inkjet cartridges, or more information, visit OfficeSupplyOutfitters.com.
About OfficeSupplyOutfitters.com:
OfficeSupplyOutfitters.com is located in Carlsbad, CA and has over 30 years experience in the imaging supplies industry. OSO endeavors to provide customers with quality products, personal care, and low prices, and has the most comprehensive warranty in the business, the OSO Triple Protection Guarantee.
###