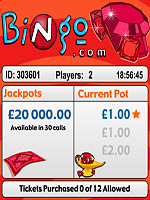 Vancouver, Canada (PRWEB) March 28, 2008
Bingo.com has launched a new concept bingo room for players at the popular bingo website, http://www.bingo.com . In an innovative new system, players are limited to buying 12 cards each so that everyone has an equal chance to win up to a possible £20,000 jackpot in each game. Ruby Riches is also open for game play between 4 p.m. and 12 a.m. daily, Greenwich Mean Time, but not everything in this game is limited. The super jackpot available is set at a record £20k, Bingo.com's highest jackpot to date.
The Ruby Riches online bingo room is in the 90 ball format of bingo; currently the most popular type of free bingo game in the UK. The bingo game room is themed in rich red rubies, in both background colour and game design. Bingo card prices are £0.25 each with a 12 ticket maximum. Thus, no player can wager more than £3.00 on a single bingo game. Having a variety of online bingo games is central to Bingo.com's strategy, and players wanted an equal odds room. With the hours of operation limited to just eight hours per day, the new room is fast becoming one of the most popular on Bingo.com.
Ruby Riches will be the second of two new bingo game rooms Bingo.com has launched in just two months. With over 1,800,000 registered users and more than 800 new users every day, http://www.bingo.com is one of the most recognized and most visited bingo entertainment destinations on the Internet.
###