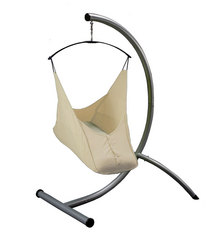 but it also serves a functional purpose that parents can feel great about.
Portland, ME (PRWEB) March 30, 2008
Husband and wife team Mark and Julie Soboil have introduced a brilliant new sleep solution for babies with the launch of their very first product line. The Hushamok baby hammock is both functional and stylish, and most importantly, a safe and secure sleep environment for the youngest members of the family.
Keeping in tradition with parents of Pre-Columbian Latin America over 800 years ago, the Hushamok baby hammock's secure design wraps around infants to simulate the safe and calming environment of the womb. And the rhythmic rocking of the hammock calms even the most restless of sleepers.
The sleek, steel frame holds a hammock of durable 100% cotton that is both double lined and backstitched for added comfort and support. And it's contemporary style and various color options complement any room in the house. Additionally, its innovative leaf-spring design provides a gentle, repetitive swaying motion that promotes longer more peaceful sleep. Each Hushamok comes complete with hammock, stand, leaf-spring, mattress, sheets and travel bag.
"Not only is the Hushamok baby hammock stylish and modern," says Maine based marketer and dad Mark Woodbury - co-founder of sparkability.com - a website selling toys and modern furnishings for kids, "but it also serves a functional purpose that parents can feel great about."
The Hushamok guards against potentially serious and life-threatening health problems that can arise during sleep. Its design allows infants to sleep soundly on their backs, which is a key recommendation in the prevention of Sudden Infant Death Syndrome (SIDS). And its gentle swinging motion and snug design may help in the relief of colic, and may also reduce the risk of acid reflux.
The innovative design will help babies sleep safely and peacefully all night long. And parents will sleep better too, knowing their infants are secure and cozy in their hammocks, just as babies were nearly 800 years ago.
For more information or to purchase a Hushamok baby hammock, visit http://www.sparkability.com.
# # #