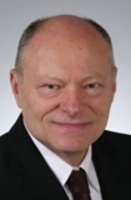 he always wanted to do but never had the time for
Wilmington, DE & Boeblingen (PRWEB) March 31, 2008
Softpro GmbH, the world's leading vendor of systems for capture and verification of handwritten signatures, today announced the appointment of Heinz Reschke, 60, as Chief Executive Officer (CEO). Reschke took over this key position at the company several weeks ago, receiving a very warm welcome of the Softpro team. In the meantime Reschke triggered a series of initiatives aimed at refocusing the company and providing enhanced customer experience as well as building on Softpro's legacy of innovation. Effective April 1st the new management structure is in place.
"Reschke is the original architect of Softpro and the visionary behind the unique customer experience that is at the heart of this remarkable company's success," said Andreas Wigger, chairman of Softpro's Supervisory Board. "Given what the Board believes needs to be done, there is no better person to drive change and ensure that Softpro is positioned to innovate, execute and relentlessly focus the entire organization on the customer."
Heinz Reschke was CEO of the company for an astonishing 17 years until the end of 2000 where he retired to the board of directors. During his period, the Company enjoyed exceptional international growth and opened offices in the United States and Singapore. Today, Softpro has customers and partners all around the world. Long-time partners of Softpro characterize Reschke as a dedicated professional with a hands-on attitude that knows how to get things done.
Reschke founded the company almost 25 years ago in December 1983. It is therefore no wonder that Reschke is regarded as "the soul of Softpro". In the past seven years Reschke continued to be a major shareholder of the company however he concentrated on projects "he always wanted to do but never had the time for". Within those years he built a very extensive network in the financial community and had the chance "to see my company from the outside, get the customers' eye on things."
As chief executive officer, Reschke has retaken responsibility for the overall strategic direction of the company, with a predominant focus on everything that touches the customer. Reschke adds "One of my missions is to add value for our customers, partner and employees in putting a dedicated focus on sustainability, reliability and trustworthiness in our every day work."
"I am enthusiastic about returning to the role of chief executive officer for the long term and excited to lead Softpro to even greater heights of achievement on a global basis," Reschke said. "We are recommitting ourselves to what has made Softpro unique: providing best-in-class in fraud detection and prevention for paper based payments the banking industry as well as delivery trustworthy solutions for electronic signatures based on handwritten signatures. We are eager to earn the trust of our customers every day - by the way we conduct our business, how we treat each other as people and how we act as a responsible corporate citizen."
Additional information is avaiable at http://www.signplus.com/en/press/releases - e.g. about Alain Sarraf named new CTO and Ralph Maute and Ulrich Pantow appointed as Product Managers.
###