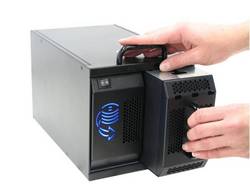 With no overhead for Ethernet or TCP/IP, a RAIDFrame will outperform Gigabit Ethernet by as much as 5 times, reducing the clients backup window dramatically
Reno, Nevada (PRWEB) March 31, 2008
Highly Reliable Systems has announced a high performance, high capacity backup system based on a Redundant Array of Inexpensive Disks (RAID). The RAIDPac removable cartridge used by the RAIDFrame holds up to 3 Terabytes (TB) of uncompressed data (5TB compressed) on a single partition, making it the world's largest removable backup cartridge. The RAIDFrame is approximately the same size as a high end tape drive but holds 3.75 times more data. The system attaches directly to a fileserver or workstation using a single, industry standard, eSATA cable running at 3 Gigabits per second or may be connected with a USB 2.0 port for emergency and/or portable use. A video presentation of the product can be seen at RAIDFrame Overview
As data stored on computers swell, companies struggle to find ways to protect it against loss. Techniques such as backing up to tape, over the Internet, or to network attached storage (NAS) often can't keep up with the need to move large amounts of data offsite nightly for safety. RAIDFrames are a more reliable and faster way to backup these huge data sets. RAID systems aren't new -- they've been used to provide hot swap drives in servers for a while. The difference is that the RAIDFrame backup system makes an entire 3 drive RAID array, and its controller, removable as a cartridge. "With no overhead for Ethernet or TCP/IP, a RAIDFrame will outperform Gigabit Ethernet by as much as 5 times, reducing the clients backup window dramatically" according to Tom Hoops, the company CTO. "No special drivers are needed since the RAIDFrame is "seen" by the host system as a single removable hard drive. Unlike tape systems, RAIDPacs can be accessed in an emergency even if the RAIDFrame itself has been destroyed. Simply open the RAIDPac to expose an industry standard SATA connection and a molex power connector that is useable on any PC to gain access to the data."
According to the company, RAIDPacs containing three 1Terabyte drives can be configured with a total capacity of 3TB when using RAID0 for maximum speed and size or with a capacity of 2TB when using RAID5 to protect against single drive failures. In RAID0 mode backup speeds of 200Gigabytes per hour are achievable. Redundancy is achieved even when using RAID0 by using multiple RAIDPacs (as with tapes -- a new one each day in rotation), so that the loss of a single drive in a RAID0 RAIDPac is not as serious as when RAID0 is used for primary storage. The "worst case" scenario is that the previous days RAIDPac is still available for restoration.
The 1 Bay RAIDFrame, released in March of 2008 joins the 5 bay rackmount RAIDFrame that was released in 2007 to create a new product family that addresses the needs of customers with backup sets that exceed 1TB and who do not wish to split their backup data onto multiple tapes. The manufacturer ships utility software with the units and recommends the use of "best of breed" backup software such as Symantec Backup Exec TM, Computer Associates Arcserve TM or imaging products such as Acronis True Image TM.
Highly Reliable Systems sells the product through registered resellers. The 1 bay RAIDFrame with a single 3TB RAIDPac retails for $2306 and is shipping now. For more information go to 3TB Removable Cartridge or call 877-384-6838.
Contact for Further Information
Kelley Kirtley Sales
KR Freemonth, VP Sales
Highly Reliable Systems
1900 Vassar Street Reno, NV 89502
775-329-5139 Sales: 877-384-6838
# # #