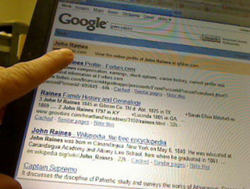 You're Only as Good As Google Says You Are!
Trenton, TN (PRWEB) March 31, 2008
Before, during or after you meet with a potential partner, employer or client, do you think they are googling your name? Most definitely. Even if they don't tell you. But are you controlling what they see during the search.
The newest and easiest way to get your personal name to the top of Google and Yahoo is with QAlias http://www.joinQAlias.com, which now has subscribers from 46 of 50 states, as well as Canada. It has become one of the smartest tools for controlling what the web says about you.
Remember a few months back when Joe Light of CNN/Money Magazine said, "You're Only as Good As Google Says You Are!" So you have to consider "How good does Google say that you are?"
You can own prime position for your name online and get a sponsored link on Google and Yahoo. Each time someone searches your name they will find a sponsored link with all your information that you provide for people to see. Plus, your best marketing tools are found easily; on page one of Google and Yahoo - the leading search engines, all for less than $10.00 a month.
Founder's story:
It was at a training event last December in Illinois, and as Charles Fellingham usually does, he stated his name within the first few minutes of the training session in front of a group of new hires for a Big Four Public accounting firm. Less than a minute or two later, two of the Generation Y seminar participants searched his name on the web and found a number of different things including his Frank Sinatra Impersonator Website. Familiar tunes blared from the back of the room as they accessed all the audio his website had to offer and had some fun with it at his expense. When he finally regained control of the seminar he asked why they searched for his name on the web. Their response was "…that's what we do before we meet someone new." "We want to know about whom we are dealing with and the web is our first resource." And from there is where the QAlias (http://www.joinQAlias.com/) story begins.
When people go online to find you - they want two things - to be able to know more about you - and to contact you. This service is so easy to use. It has a professional, ad-free look, and feel, inexpensive - and gets you to the top of Google and Yahoo by name search.
If you think you aren't being googled, you may want to think again. So be prepared.
For more information on QAlias or to sign up, please visit http://www.joinQAlias.com/. Click on the spinning globe at the top of the page to sign up.
###