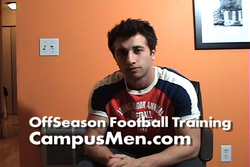 Off-season training gives players the opportunity to actually build those skills.
Los Angeles, CA (PRWEB) March 31, 2008
Aspiring high school and college football players seeking to build their on-field skills during the important off-season training period can now get free video-based advice on the Internet at Off Season Football Workout Videos.
Former Baldwin-Wallace football player and Mentor competitive bodybuilder Shane Cibella leads players through a series of seven videos designed to increase player abilities at specific positions, such as tight end, defensive back and running back.
"During the regular season, football players are working just to maintain their skills," Cibella said. "Off-season training gives players the opportunity to actually build those skills."
The CampusMen.com off-season football training videos, each about three minutes in length, takes players through four days of exercises to increase strength and explosiveness. Monday's exercises focus on legs, Tuesday's on chests, Thursday's on backs and Friday's on shoulders. The videos suggest taking Wednesday as the "break" day to give the body a chance to recover from the intense regimen.
"The goal is to get as strong as possible in the off season," Cibella said. "How a football player benefits from these videos depends on what he is looking to do. Linemen are usually looking to build strength; wide receivers want speed and agility."
In addition to the four-day off-season muscle and strength-building routines, the campusmen.com videos also offer training tips on increasing speed and - most of all - explosiveness off the line of scrimmage. Cibella suggests downhill sprints, maneuvers through traffic cones and a variety of other techniques to increase performance in the 40-yard dash.
He also teaches players how to test the effectiveness of their overall off-season training regimen, using many of the same methods the NFL employs at its combines.
"It's important to be as strong as possible when playing football (on any level)," Cibella said.
Following the Campus Men Videos, is one way a high school or college football player can improve his on-field performance during the off season training months with virtually no cash outlay.
Cibella's background, qualifications and credentials are listed in his personal bio video.
###