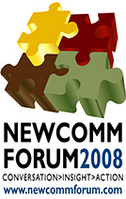 Exploring the ROI of Online Press Releases.
Palo Alto, CA (PRWEB) March 31, 2008
The Society for New Communications Research (SNCR, http://www.sncr.org), a global, nonprofit think tank focused on the latest developments in media and communications, today announced the launch of a new research study, sponsored by Vocus, a leading provider of on-demand software for public relations management and a member of the Society's Vendor Council. The research study is titled "Exploring the ROI of Online Press Releases."
The study is being led by a team of SNCR Fellows including Shel Holtz and Dr. Mihaela Vorvoreanu. Through a survey and case studies, the research team will explore how the value of press releases has traditionally been measured and how that is changing as a result of how press releases are being used by the PR/marketing profession today. It will address the question: What are appropriate measurements of value today? And it will explore the larger question of how the PR profession is evolving.
The SNCR invites public relations and marketing professionals to participate in this research. A brief survey questionnaire is available at http://www.surveytracker.net/scripts/survey.dll?AHID=031003.
All participants will receive a complimentary copy of the executive summary of the final report and a special discount to attend New Communications Forum, April 22-25, in Sonoma County, Calif., where the initial findings will be released in a special session.
"New media and online communications tools and technologies have changed the way that press releases are issued and distributed," commented Jiyan Wei, Vocus, online product manager, PRWeb and a member of the SNCR's Vendor Council and Advisory Board. "In addition, there has been some convergence of the marketing and PR function in recent years, which is affecting the underlying purpose and goals for press releases as a communications vehicle."
Based on its research, the SNCR will provide actionable advice and insight into how to maximize the value and measure the ROI of online press releases. A series of recommendations for the PR/marketing communications profession will be presented by the SNCR's Best Practices committee.
"New online communications tools and technologies are changing the way we think about traditional communications tools, such as the press release," stated Jen McClure, executive director, SNCR. "We are delighted to be exploring this important shift with the support of our Vendor Council and Advisory Board member, Vocus."
"By supporting this important research, we hope to provide insight and clear and functional advice about how press releases can be used to provide maximum value and how to measure their success," added Wei.
The initial research findings will be shared at the Society for New Communications Research's annual conference, New Communications Forum, which will be held April 22-25, 2008 in Sonoma County, CA. (http://www.newcommforum.com). The event will be sponsored in part by Vocus. The final results will be highlighted in the Journal of New Communications Research, published in a full report that will be available from SNCR and shared at the Society's annual Research Symposium in Fall 2008.
About the Society for New Communications Research
The Society for New Communications Research is a global nonprofit 501(c)(3) think tank dedicated to the advanced study of new communications tools, technologies and emerging modes of communication, and their effect on traditional media, professional communications, business, culture and society. The Society's Fellows include more than 40 futurists, scholars, business leaders, professional communicators, members of the media and technologists from around the globe. In addition, the Society's members include a Vendor Council with representatives from more than a dozen leading technology companies and Organizational Affiliates comprising industry associations, research organizations and other leading think tanks. For more information about the Society for New Communications Research, visit http://www.sncr.org or call +1 (650) 331-0083.
###