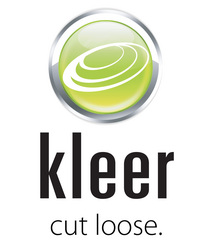 Kleer is leading the revolution in the wireless portable audio market
Cupertino, CA (PRWEB) April 2, 2008
Kleer™, a fabless semiconductor company focused on wireless audio applications, announces that it has secured $28 million (US) in Series B funding led by TL Ventures and BDC Venture Capital. Existing investors USVP and VenGrowth also participated. The financing will be used to scale Kleer's initial commercial success to mass market adoption in the wireless audio arena.
"Kleer is leading the revolution in the wireless portable audio market," said Anthony T. Chang, Managing Director of TL Ventures. "Given the poor wireless audio solutions offered by Bluetooth and others, high-profile OEMs such as Sennheiser and other quality audio brands are turning to Kleer to provide them with a superior technology that offers CD quality audio, long battery life, small and lightweight products as well as product interoperability."
"Kleer is the only IC vendor in the world able to supply true wireless audio technology that combines high quality audio and robust ISM band coexistence with low power consumption," said Levent Gun. "As proof of our product leadership, Kleer is currently working with 25 OEM's on over 30 products available this year. Further, all products will bear the Kleer logo, which ensures the consumer full interoperability between various vendors' devices."
About TL Ventures:
TL Ventures invests in companies led by outstanding management teams capable of building category-defining businesses in the software, information technology infrastructure and services, communications and biotechnology industries. Its team of investment professionals offers an extensive network of nationwide contacts and resources. TL Ventures also assists early stage companies with business and product strategy, recruiting, technology partnerships, business and channel development and financing. For more information, see http://www.tlventures.com.
About BDC Venture Capital:
BDC Venture Capital is a major venture capital investor in Canada, active at every stage of the company's development cycle, from seed through expansion, with a focus on technology-based businesses that have high growth potential and are positioned to become dominant players in their markets. BDC Venture Capital has been involved in venture capital since 1975, and has to date invested in more than 400 different companies. It currently manages approximately $550 million in venture capital assets invested in the areas of Life Sciences, Telecommunications, Information Technology, Advanced Technologies and Fund Investments. For more information, see http://www.bdc.ca.
About Kleer:
Kleer is a fabless semiconductor company that has developed the first wireless audio technology to combine high quality audio and robust ISM band coexistence with low power consumption to address portable, home and automotive audio markets. Unlike Bluetooth, Kleer's patented subsampling radio architecture was designed from the ground up to communicate lossless CD-quality digital stereo audio over a robust 2.4GHz radio link, while achieving 10 times the battery life of a comparable Bluetooth solution. Kleer's Audio LP technology is ideally suited for OEMs of portable audio players, iPod® and other player accessories, home audio/theater systems, earphones, headphones, and speakers. Kleer distributes its products via direct sales in North America, and a distribution channel in Korea and Japan. The Company is headquartered in Cupertino, California with product development facilities in Ottawa, Ontario.
For more information, contact the company at 19925 Stevens Creek Blvd. Suite 111, Cupertino, CA, 95014, Tel: 408-973-7255, Fax: 408-973-7256, Email: info @ kleer.com, or visit the company web site at http://www.kleer.com
*Apple, the Apple logo, Mac, Mac OS, Macintosh, iPod and iTunes are trademarks of Apple. All other trademarks, registered trademarks, products and/or services mentioned herein are the property of their respective owners.
For more information:
Kleer Media Contacts:
Verrecchia Group Communications
Marlene Kovac
Tel: (514) 421-1940 x148
Email: marlene @ vergroup.com
Susan Verrecchia
Tel: (514) 421-1940 x147
Email: susan @ vergroup.com
Kleer Contact:
James Elrick
Tel: (613) 287-0989 x 250
jelrick @ kleer.com
###