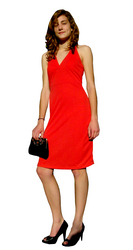 Seattle, WA (PRWEB) April 4, 2008
Prom season is in full swing, with teens and parents scouring the racks to find the perfect fashions. With the average prom night price tag easily topping $500, and in a tightened economy, many shoppers are looking for ways to save big without skimping on style. A great way to get the look for less? Hit up a secondhand store, where teens won't have to break the bank to look like a million bucks, plus they'll be at the height of "eco-chic" by sporting a 100 percent recycled ensemble.
Savers/Value Village, a privately held for-profit secondhand store chain with more than 200 locations in the United States and Canada, routinely stocks a selection of fancy frocks and sleek suits, and offers these tips for finding trendy prom fashions while shopping thrift:
*Look for the "LBD" - A timeless staple, the little black dress is the perfect piece that can flatter any figure, and with so many in circulation, it's a common thrift store find. To pull off an evening look, dress a basic black dress up with bold, sparkly jewelry picked up on the cheap at the secondhand store, or use cash saved on the dress to splurge for a statement piece.
*Go Va-Va-Vintage - Authentic fashions from years gone by are always a contemporary hit. Look for long and flowing empire-waist dresses from the 1970's that show-off understated elegance, or go pretty in pink with indulgent 1980's ball gowns that are fit for a modern princess.
*Try Casual Chic - Shorter, flirty frocks are gaining popularity at the prom. When shopping thrift, make sure to look in both the special occasion sections as well as the everyday dress aisle where the more casual looks are found. Choose a bold color - like this season's trendy runway red - to ensure a shorter dress will still make a statement, and pair with an ornate brooch or intricate handbag to create an evening look.
*Recreate and Restyle - Get creative with an outdated look by altering it with a few easy twists. Extreme puffy sleeves on an otherwise fabulous find? Simply snip off the top, re-stitch, and sport a sleek strapless. Too long for your taste? Some scissors and new hemline will instantly revamp the find into a short and sassy style that's one-of-a-kind.
*Accessorize! - Put the finishing touches on any dress with fun accessories, found at inexpensive prices when you shop thrift. Favorites include faux fur wraps, fun handbags and vintage jewelry that channels old Hollywood glamour - for just a few bucks each!
*Suit Your Budget - For the guys, skip the standard tux rental, and score a complete suit at bargain prices. As a special occasion item, thrift stores receive many pristine condition two-piece ensembles, often in designer styles. Pick up a dark color and matching tie for a classic look that will match any date's dress.
*Be Fresh and Funky - All black can get boring for the boys. Hit the tie rack for fun styles that show off more personality and individual flair. Or, opt for a colorful vintage suit jacket paired with dark pants and tie for a fresh look. Simply browse the aisles for endless inspiration from head-to-toe!
For more ways to save on prom styles, see real-life looks, and learn more about the environmental benefits of choosing to shop secondhand, visit Savers/Value Village on Myspace at http://www.myspace.com/redesigners.
About Savers/Value Village
Founded in 1954, Savers, Inc. is a privately held for-profit international thrift store chain with more than 200 locations in the United States, Canada and Australia. Also known as Value Village in the western United States and Canadian provinces (and as Village des Valeurs in Quebec), the company benefits more than 120 local non-profit organizations by purchasing and reselling donated items. The result has been over one billion dollars directly paid to non-profit organizations. The company employs more than 10,000 people in 23 states, 10 Canadian provinces and Australia. Visit http://www.savers.com for more information.
# # #