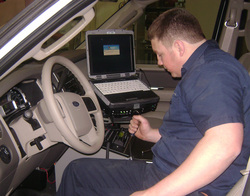 Spokane, WA (Vocus) April 4, 2008
A leader in their service industry, Day Wireless Systems - Spokane has been recognized for its accomplishment in becoming an approved Certified Service Center (CSC), the first in Washington State, as awarded by the Electronic Technicians Association, International. Day Wireless Systems has met the national requirements of the CSC program; an all-industry initiative backed by leading electronics industry associations and major product manufacturers.
Consortium of Certified Service Centers is a not-for-profit organization developed not only to represent distinguished independent electronic service centers, but also to provide a standard that the consumer can rely on when seeking quality and customer service. The CSC program was designed to identify service facilities that strive to provide honest, responsible, competent and world-class customer service.
To celebrate, Day Wireless will be holding an open house luncheon at its Spokane location on April 16, from 11am-2pm, at 13212 E. Indiana Ave, Spokane Valley, WA 99216. Lunch and prizes will be provided, and wireless mobility products will be on display.
Day Wireless Systems - Spokane went through a voluntary rigorous application process and implemented the strict guidelines of excellence that the Consortium imposes. Day Wireless - Spokane has met all CSC requirements that ensure a higher code of conduct towards consumer confidence such as certified management and technicians, consumer protection programs, and quality assurance plans.
Day Wireless Systems, which is composed of 28 service locations and 175 technical staff, plans on completing CSC requirements in each of their 6 regional centers - Spokane, Seattle, Portland, Bay Area, LA, San Diego by the end of 2008. Since 1969, Day Wireless has been providing professional radio services for demanding commercial, government, and mission critical public safety systems, and is the largest Motorola Authorized Service organization in the USA.
For more information on the celebration luncheon or the CSC program, please visit http://www.daywireless.com
###