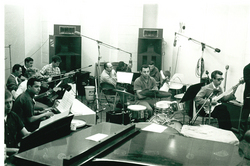 Nashville, Tennessee (PRWEB) April 4, 2008
Actors William H. Macy, Patricia Neal and Vincent D'Onofrio will join musicians Béla Fleck, Lyle Lovett and members of the famed Wrecking Crew at this year's Nashville Film Festival, taking place April 17-24 at Regal Green Hills Cinemas. The complete lineup of films, panels, workshops and events, available now at nashvillefilmfestival.org, includes several World Premieres, favorites from the recent Sundance and SXSW film festivals, panels by actors-turned-filmmakers, film critics and music supervisors, and enough parties and VIP receptions to keep filmgoers celebrating for the festival's entire eight-day run. Tickets go onsale online on Friday, April 4, 2008.
The festival kicks off on Thursday, April 17, with Sundance favorite THE DEAL, starring Macy, Meg Ryan, L.L. Cool J, and Jason Ritter. Macy, along with director Steven Schachter, will attend the theatre screening and opening night party at BMI's Nashville headquarters on Music Row. World Premieres this year include BEARING LIGHT: A JOURNEY TO SUDAN, a new documentary by "Big Kenny" Alphin of Big & Rich, that follows the journey of Alphin and others as they join members of the organization My Sister's Keeper in support of a campaign to build a school for the girls of Akon Village, Sudan. Also World Premiering are CORNERED (Eric Drath, USA), a documentary investigating the brutal assault of Nashville boxer Irish Billy Collins by opponent Luis Resto in a 1983 match at Madison Square Garden, BUNNYLAND (Brett Hanover, USA) and PROPHETS RISING (Jane Pittman and Loree Gold, USA).
Film icon Patricia Neal (Fountainhead, A Face in the Crowd, HUD, The Subject Was Roses) will receive the Nashville Film Festival Lifetime Achievement Award for her film and charitable work. The award will be presented by musician and actor Lyle Lovett -- her co-star in 1999's Cookie's Fortune -- prior to the Tuesday, April 22 screening of Martin Ritt's 1964 classic, HUD, co-starring Paul Newman and Melvyn Douglas.
Film festival devotees will appreciate SXSW Film Festival Audience Award winner COOK COUNTY (David Pomes, USA). Another festival favorite, THROW DOWN YOUR HEART (Sascha Paladino, USA), which follows banjo master and multiple Grammy Award winner Béla Fleck on his journey to trace his instrument's roots and record an album in Africa, will include a post-screening performance by Fleck. Other film highlights include late night offerings TEENAGE TUPELO, by cult Memphis filmmaker John Michael McCarthy and horror favorite TRAILER PARK OF TERROR (Steven Goldmann, USA) plus two screenings celebrating the work of filmmaker Damon Packard - the feature-length REFLECTIONS OF EVIL and the shorts collection THE RETURN OF THE RE-WORKED: DAMON PACKARD UNLEASHED!
Nashville is home to the largest population of Kurdish immigrants in North America, and at this year's festival, the community is well represented with two feature-length films, the narrative CROSSING THE DUST (Shawkat Amin Korki, Kurdistan/France) and the North American premiere of the documentary SOZDAR, SHE WHO LIVES HER PROMISE (Annegriet Wietsma, Netherlands).
Noted panels will include Law and Order: Criminal Intent star Vincent D'Onofrio with Kimberly Williams-Paisley, Joey Lauren Adams and Michelle Paradise discussing working behind the camera in ACTORS TURNED FILMMAKERS. In COVERING FILM: THE STATE OF THE CRITIC, Steven Gaydos will join David D'Arcy, Scott Foundas, Joe Leydon and moderator Jim Ridley to discuss the changing times for film journalism. A Nashville Film Festival panel favorite on music supervision, this year titled MUSIC SUPERVISORS: THE ABC'S OF SONG PLACEMENT AND LICENSING, returns with a distinguished panel of music supervisors.
The festival will close on Thursday, April 24, with the documentary WRECKING CREW, a recent Audience Award winner at the Niagara/Buffalo Film Festival. Director Denny Tedesco, son of legendary session guitarist Tommy Tedesco, will be in attendance along with Crew members Mike Deasy, Don Randi, Larry Knechtel and Lyle Ritz, and special guest musicians. The Closing Night Party and NaFF JaMM will take place at the Cannery Ballroom.
The Nashville Film Festival is one of the Academy Awards qualifying festivals for short films and animated shorts, so viewers can expect an extraordinary collection of quality shorts. This year's Festival includes two programs of animated shorts, two dedicated to Tennessee filmmakers, two exploring themes of interest to the gay and lesbian communities, the popular FILM WITHOUT BOUNDARIES experimental collection, plus several themed programs with everything from short music documentaries to comedy shorts.
About Nashville Film Festival
Nashville Film Festival is a non-profit 501(c)(3) corporation and receives funding from The H. Franklin Brooks Philanthropic Fund, William N. Rollins Fund for the Arts of The Community Foundation of Middle Tennessee, The Frist Foundation, The Memorial Foundation, Nashville Metro Arts Commission, National Endowment for the Arts, Ragsdale Family Foundation, Target Stores, Tennessee Arts Commission, and its generous patrons and sponsors.
###