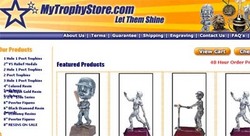 Appropriate recognition and praise for a job well done should be commonplace in today's society
Mchenry, IL (PRWEB) April 8, 2008
The tournament champions. An A+ on a paper. Most improved player. Helping recognize special achievers every day, MyTrophyStore.com offers a wide selection of awards for sports, academics, and religious occasions, including unique items such as sculptures and bobblehead trophies. MyTrophyStore.com now makes it even easier to recognize standout achievements by offering free engraving on items in their store.
"Appropriate recognition and praise for a job well done should be commonplace in today's society," says MyTrophyStore.com Owner Todd Adams.
Standing behind their belief that everyone deserves to feel like a star, this family-operated business offers a wide selection of awards, trophies, and medals covering a variety of needs. Free engraving on many of these items allows customers to personalize trophies and awards to suit their specific occasions. Setting themselves apart from other stores, MyTrophyStore.com offers more free engraving characters than any other online trophy store.
Coaches and team managers can choose from a wide range of youth baseball trophies and awards for soccer, hockey, gymnastics, tennis, cheerleading, and many other sports. Parents, business owners, and group leaders may choose from a range of traditional or unique styles of awards including bobblehead trophies, resin figures, and spinner medallions, while teachers can award students for perfect attendance, participation, graduation, and other special events with a personalized award. For customers looking for a truly special trophy, MyTrophyStore.com offers customized trophies featuring various display options. Customers may choose from a range of colors, figures, and post variations.
MyTrophyStore.com focuses on providing methods of recognition for the achievements of individuals and teams. Their easy to navigate website featuring clearly marked categories makes it easy to shop the variety of youth baseball trophies and other awards available. Combined with free shipping offers and a convenient shipping calculator, customers can also take advantage of fast processing and quick shipping when shopping at MyTrophyStore.com.
"To really know why we are in this business, you have to capture the moment in time when a child receives their trophy," says Adams. "It is that moment we wish to recreate for individuals everywhere and we make it possible with the wide selection of awards and trophies we offer in our store."
For more information about bobblehead trophies and other customizable awards, please visit MyTrophyStore.com.
About MyTrophyStore.com:
MyTrophyStore.com is a family business dedicated to offering traditional and unique bobblehead trophies and personalized awards designed to bring recognition for jobs well done. Showcasing awards for sports, academics, and religious organizations, MyTrophyStore.com offers free engraving on many products as well as fast order processing.
###