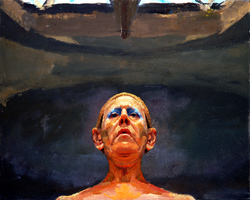 The Figure Revealed: Contemporary American Figurative Paintings and Drawings
Kalamazoo, MI (PRWEB) April 9, 2008
"The Figure Revealed: Contemporary American Figurative Paintings and Drawings," the first major survey of contemporary American realist figurative art by a Midwest museum in more than 10 years, opens at the Kalamazoo Institute of Arts on Saturday, May 3, and continues through June 29.
Curated and mounted by the Kalamazoo Institute of Arts, this exhibition contains 50 works by 25 of the leading American figurative artists of the past three decades.
The human figure has had an abiding presence throughout the history of American art, persisting even when the prevailing mood was unfriendly toward artists who chose to depict it in naturalistic, representational terms. This was especially true during the mid-20th century, when Abstract Expressionism was in its ascendancy and the attention of the art world was focused on New York.
Artists such as Philip Pearlstein, Alfred Leslie, Jack Beal, James Valerio and Martha Mayer Erlebacher carried the torch for realism through the 1960s, making acceptable once again the idea that one could work directly from observation, using traditional practices and modes of perception honed from long and careful study of Western art.
Beal adapted the lessons of abstractionism in his realist paintings, creating structured compositions within a clearly defined shallow space. Janet Fish incorporates the figure into the vibrantly colored still lifes that play on abstract qualities of movement and light. Erlebacher is interested in the narrative and allegorical potential of the human figure - in "Three Cats at Dusk," the sensual figures of three nude women exist in a dreamlike landscape, lit by a darkening sky. This otherworldly quality also pervades the work of Valerio, whose ambiguous narratives offer more questions than answers.
Portraits and self-portraits have long held a fascination for artists and viewers alike. William Beckman's heroically scaled and unflinchingly rendered self-portraits are autobiographical statements documenting his personal relationships. In Kent Bellows' "Gluttony Self-Portrait," the artist is a Bacchus figure at a banquet table copiously laden with sumptuous food, while gutted candles smolder and behind him a storm brews.
The self-portraits of Susan Hauptman and Julie Heffernan introduce questions relating to identity, gender and the nature of the self. In her large-scale charcoal works, Hauptman draws herself with startling, near-photographic exactitude, while Heffernan's fantastical creations are allegorical ventures into what she calls "her second self," a guise presented as metaphor.
The works of Steven Assael and Stone Roberts both emphasize narrative, but each in a much different way. In Roberts' "Portrait of a Marriage," a woman in a red business suit sits demurely on a Persian rug scattered with papers and an overstuffed briefcase, while behind her a man peers at a computer screen. In "At Mother," Assael examines questions of individuality and identity through his depiction of a pierced, tattooed, chain-and leather-clad, spiked-haired and Mohawked gang that hangs out at Mother, a club in the meatpacking district of New York.
Other artists in the exhibition are Manon Cleary, Susanna Coffey, Kenneth Freed, Gregory Gillespie, Sidney Goodman, Holly Lane, Tim Lowly, Jane Lund, Perin Mahler, Richard Maury, Deborah Rockman, George Tooker and Christian Vincent.
"The Figure Revealed" is sponsored by National City. The exhibition is free of charge and open during the KIA's normal gallery hours: Tuesday through Saturday from 10 a.m. to 5 p.m., and Sunday from noon to 5 p.m.
Digital images from the exhibition are available from the KIA on request.
The Kalamazoo Institute of Arts (http://www.kiarts.org), part of the community since 1924, is a non-profit visual arts museum and school. Its mission is to offer to the residents of Kalamazoo County and West Michigan visual arts exhibitions, classes and educational programs that encourage the creation and appreciation of art.
###