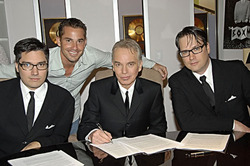 We're proud to partner with Billy Bob to bring his independent spirit and musical talents to life on the Dell Lounge
Santa Monica, CA (PRWEB) April 10, 2008
Billy Bob Thornton and The Boxmasters, composed of W.R. 'Bud' Thornton (drums, vocals/background vocals), J.D. Andrew (electric/acoustic guitars, bass, background vocals) and Mike Butler (electric guitar, lap steel, dobro), join forces with Vanguard Records to release their debut 2-CD set, June 10 on Sawmill/Vanguard Records. The 23 tracks on The Boxmasters feature original songs penned and co-penned by Billy Bob Thornton and J.D. Andrew. They also include some classic cover tunes with a distinctive flair. The Boxmasters was produced by W.R. 'Bud' Thornton and GRAMMY®-winning engineer J.D. Andrew. The idea of The Boxmasters came to Billy Bob while he was working on his previous solo album, Beautiful Door, which received critical acclaim and was voted one of the Top 10 Americana albums in 2007 by GRITZ magazine.
Billy Bob Thornton & The Boxmasters' sound combines the influence of the Beatles, The Rolling Stones, Kinks, and the Animals, fused with Johnny Cash, Merle Haggard, Buck Owens, Roy Acuff and Hank Williams. Fashioned after a 1960's-era mod band (including matching suits and ties!), The Boxmasters' upbeat rhythms and infectious arrangements contrast sardonically with the very dark themes they explore lyrically. The tension that the disparity between the subject matter and the music creates lends itself to a truly unique musical experience that could only be produced by The Boxmasters.
"Electric Hillbilly music is probably the best description of The Boxmasters," stated Billy Bob Thornton. "But the real idea behind The Boxmasters was both musically and in live performance, is like watching a combination of 60's television shows like Dean Martin, Johnny Cash Show, all those variety shows, with electric hillbilly music -- it's a great blend."
Vanguard Records, a label with a deep history of jazz, blues, country and folk, is proud to add Billy Bob Thornton and The Boxmasters to its roster of artists. Billy Bob's craftsmanship, creative artistry, honest rich storytelling, is a perfect fit. "We are very excited to execute Billy Bob's vision of The Boxmasters. His musical talent along with his creative marketing ideas allows us to reach a wide audience," states Kevin Welk, President of Vanguard Records/Welk Music Group.
Since November, the Dell Lounge (http://www.DellLounge.com/BillyBobMusic/) has partnered with Billy Bob Thornton and The Boxmasters on a multi-media journey as they record and produce music in a home studio powered by Dell. The Dell Lounge is an interactive, experimental Web site offering exclusive content for a range of online communities, including music, gaming and entertainment. "We're proud to partner with Billy Bob to bring his independent spirit and musical talents to life on the Dell Lounge," states Michael Tatelman, VP, Global Consumer Marketing. "Billy Bob's collaboration with the Dell Lounge delivers both the songs and the stories, offering visitors around the world a rich experience of his music and the process of crafting it."
The Boxmasters will be hitting the road this summer for a cross-country tour beginning in mid-July. Some of the cities include Austin, Memphis, New York City, Philadelphia, Washington, D.C., Chicago and Los Angeles. A full listing of tour dates will be announced shortly.
Musician and songwriter extraordinaire, Thornton continues to forge a prolific musical path. His previous solo albums include Beautiful Door, Hobo, Edge of The World and Private Radio. He has also performed on numerous recordings such as Warren Zevon's GRAMMY winning album The Wind, the legendary Earl Scruggs', Earl Scruggs and Friends and Anchored In Love: A Tribute to June Carter Cash.
The Boxmasters Track Listing:
Disc 1
Poor House
Build Your Own Prison
I'll Give You A Ring
The Last Place They Would Look
Shit List
I'm Watching The Game
20 Years Ago
That Mountain
The Work Of Art
Two-Bit Grifter
The Girl On The Side
No Whiskey In Heaven
Disc 2
She's Lookin' Better By The Minute
Some of Shelly's Blues
Memories of You & I
Yesterday's Gone
Knoxville Girl
I Wanna Hold Your Hand
Sawmill
The Original Mixed-Up Kid
House at Pooh Corner
Propinquity
The Kids Are Alright
For more information please contact:
Lucy Sabini
Vanguard Records
310-829-9355x137
For Professional Audio/Music Technology Information/Endorsement Inquiries for Billy Bob Thornton and The Boxmasters, please contact:
ROBERT CLYNE
Clyne Media, Inc.
tel: 615.662.1616
For more information on Billy Bob Thornton and The Boxmasters, please contact:
ARNOLD ROBINSON
Rogers & Cowan
tel: 310.854.8193
###