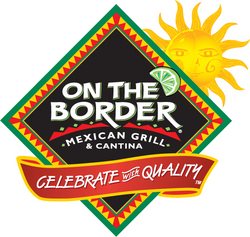 Dallas, TX (Vocus) April 11, 2008
On The Border® (OTB) is off the cheese charts, announcing its newest, cheesiest flavor of Salsa Con Queso — Monterey White.
OTB "Monterey White" Salsa Con Queso
Monterey White is the ultimate portal to over-the-top cheese appreciation, boasting more than five times as much total cheese content than its competitors. Its mix includes creamy Monterey Jack (the real deal), uber-cheesy Mozzarella, deliciously mild cheddar cheeses, a Southwest ensemble of fiesta-fresh tomatoes, savory spices and mild peppers (jalapeño, poblano, red bell, and green chilies). OTB Monterey White contains no trans fat or MSG — just the depth and complexity a complicated queso connoisseur demands.
On The Border, Ahead of the Competition
For the past fifteen years, Truco Enterprises/OTB has been known for its brand integrity and product innovation. Its newest queso is but the latest achievement in a track record of premier quality delivered at a real value. Its sustained success has helped the company cast a growing shadow on its competitors over the past decade, by expanding into six categories (soon to be seven), and providing appetizing and eye-catching premium-branded products. It is currently ranked #6 in branded manufacturing, and has continued to outpace the competition with consistent double digit dollar growth over the last four years. (Source: IRI YTD Sept 07).
Monterey White Twin Packs
On The Border® Monterey White Salsa Con Queso is available currently in twin packs in the club channel and in single units in the grocery channel. It can also
be ordered by contacting Dawn Grosvenor info@truco.com, or by calling 1-800-471-7723, ext. 355.
About TRUCO ENTERPRISES – Truco Enterprises is a company in which ideas and business strategies are always fresh. By forging an innovative partnership with Brinker International and licensing On The Border® brand name retail products, Truco Enterprises has created a unique virtual platform that supports manufacturing, distribution, and sales of a range of Southwest/Mexican cuisine flavor options spanning six categories: salty snacks, dips, salsa, drink mix, soups, and frozen foods. Today, Truco markets and distributes its premium-branded products internationally. The company is headquartered in Dallas, Texas. For more information, visit http://www.truco.com.
LINKS TO PRINTABLE, HI-RESOLUTION IMAGES:
Monterey White Salsa Con Queso — Five Times As Cheesy
http://mdvccreative.com/TRUCO/OTB_5TIMESASCHEESY_LRG.jpg
On The Border® Monterey White Salsa Con Queso, 13 oz. single pack
http://mdvccreative.com/TRUCO/OTB_QUESO_13oz_MontWhite_LRG.jpg
On The Border® Salsa Con Queso Twin Pack
http://mdvccreative.com/TRUCO/OTB_QUESO_TwinPack_mixed_LRG.jpg
CONTACT:
Molly DeVoss
MDVC Creative, Inc.
121 Payne Street
Dallas, TX 75207
214.742.6382, ext. 17
###