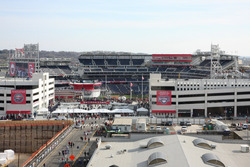 The whole design team went above and beyond the call by achieving LEED Silver Certification - it's like we asked them for a home run and we got a grand slam.
Washington, DC (PRWEB) April 14, 2008
It's official: Nationals Park is the nation's greenest ballpark. The project received LEED® Silver Certification from the U.S. Green Building Council, making it the first major stadium in the United States to achieve LEED Certification. LEED is a point-based system where projects earn points for satisfying specific green building criteria. This project incorporated enough green design elements to qualify it for a higher level of certification.
By saving millions of gallons of water, using efficient field lighting, adding a green roof and incorporating recycling at the ballpark, Nationals Park is a lot greener than just its playing field.
"Creating a green ballpark was as fundamental as any requirement when we decided to embark on this mission to build a new state of the art stadium for the Washington Nationals," said DC Sports and Entertainment Commission CEO Gregory A. O'Dell. "We are excited to set the environmental standard for the rest of the sporting world and we are extremely proud of this achievement for the District of Columbia."
LEED (Leadership in Energy and Environmental Design) is a rating system that was designed by the U.S. Green Building Council (USGBC) to guide and distinguish high performance buildings that have less of an impact on the environment, are healthier for those who use the building and are more profitable than their conventional counterparts.
The USGBC originally created the LEED Certification process to promote environmentally responsible design in such buildings as offices, schools and hospitals. Design firm HOK managed the LEED Certification process.
"Beginning with Camden Yards 15 years ago, HOK Sport has been known for its innovation in ballpark design," said Joe Spear, HOK Sport principal. "And because the design team had to literally forge a new path in designing a green ballpark, it has proven its innovative ways once again."
Set near the Anacostia River, the ballpark's site dictated much of the approach to LEED Certification. The ballpark rests on soil that once was contaminated. That soil was treated and replaced. Also, six massive sand filters buried underground will keep ballpark washdown water, hot dog wrappers and other debris from polluting the river nearby. The ballpark also neighbors a variety of public transportation options, including rail, bike and bus routes.
"HOK worked closely with the USGBC to find creative ways to incorporate environmentally friendly design concepts," said Susan Klumpp, HOK's project manager and LEED program manager.
The ballpark received 34 points toward LEED Certification for such green design elements as:

Using high efficiency field lighting, which will save 21 percent over typical field lighting.
Installing water conserving plumbing fixtures, which will save 3.6 million gallons of water per year and reduce overall water consumption by 30 percent.
Using air-cooled chillers instead of water-cooled chillers will save another 6 million gallons of water per year.
Placing 100 recycling bins for fan use throughout the ballpark.
Using recycled materials in 20 percent of the ballpark's construction, and recycling 5,500 tons of construction waste.
Planting a 6,300 square foot green roof above a concession/toilet area beyond left field to collect rain water and minimize roof heat gain.
Creating signage around the ballpark highlighting the ballpark's environmentally friendly aspects.
"In the end, we were able to create a ballpark that not only preserves our precious environment, but it also preserves the history and traditions of baseball in the nation's capital," said Stan Kasten, Team President of the Washington Nationals. "The whole design team went above and beyond the call by achieving LEED Silver Certification - it's like we asked them for a home run and we got a grand slam."
About HOK Sport
HOK Sport is one of the world's leading design firms - and the only firm in the world dedicated exclusively to the design of sporting venues. As designers of some of the world's most identifiable sports and entertainment buildings, HOK Sport continues to define a building type which has played an increasing role in establishing the architectural fabric of modern cities. Their architects are the world's finest and most experienced, drawing from the combined expertise of more than 825 projects with construction value exceeding $20 billion. HOK Sport's client list is diverse and comprehensive; it includes 24 Major League Baseball franchises, 30 NFL franchises, 80 professional and civic arena clients, 40 soccer and rugby teams and 120 colleges and universities. The firm has received more than 200 design awards, including three national design awards from the American Institute of Architects. With offices in Brisbane, Australia; London, England; Beijing, China; Nashville, Tennessee; Knoxville, Tennessee; Denver, Colorado; and Kansas City, Missouri, their reach is worldwide.
http://www.hoksport.com
http://www.hoksport.com/sustainable
###