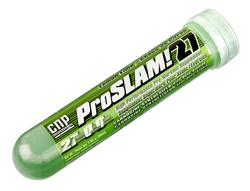 Pro Slam helps athletes train more intensively and recover more quickly, to allow greater lean muscle gain
(Vocus) April 11, 2008
CNP Professional has launched a [Lemon & Lime version of its popular Pro Slam protein supplement. Supplied in a ready to drink, one-portion 86ml vial, the new Pro Slam delivers 27g of quality protein with zero fat and zero carbohydrate. It is primarily designed as a pre-training booster and is suitable for a wide variety of sports.
Taking protein supplements before a workout, training or an event gives the body a supply of amino acids to help repair and build muscle. The Pro Slam formula also includes beta Alanine, a carnosine synthesizer that delays muscle fatigue. "Pro Slam helps athletes train more intensively and recover more quickly, to allow greater lean muscle gain," says CNP founder Kerry Kayes. "So ultimately it doesn't only speed recovery, it can also improve fitness, stamina and performance."
27g of protein is the optimum amount for a body to take in a pre-training booster. The new Lemon & Lime Pro Slam makes it very easy for sports people to take in extra protein: it's got a pleasant taste, takes only five seconds to drink and the vial's recyclable packaging is just about indestructible - so it won't matter if it's knocked about in a kit bag.
As Pro Slam takes effect it often causes a mild tingling sensation in the skin. Kerry Kayes explains: "That's the Pro Slam buzz - it's a natural side effect of the beta Alanine. It tells you the Pro Slam is getting to work!"
Pro Slam is suitable for vegans, vegetarians and those on a gluten-free diet. Available from high street outlets or via the CNP website, it is supplied in boxes containing twelve vials costing £35.88. Discounts are available for online purchasers and the CNP website also offers a sample vial costing £2.99. Pro Slam also comes in peach and fruit punch flavours.
CNP Professional is one of the UK's leading sports nutrition specialist companies. For more information visit http://www.cnpprofessional.co.uk or call +44 (0) 161 320 1212 for sports nutrition advice and +44 (0) 161 320 8145 for sales.
Copy ends
________________________________________
Lemon & Lime Pro Slam launch.doc – April 08
Press enquiries: Toni Turner or Alison Haynes at The Publicity Works
Tel: +44 (0) 1263 761000 Email: cnp@publicityworks.biz
Paul Riley, Marketing Manager, CNP Professional: +44 (0)161 320 8145
Photography is available in a choice of formats on request from cnp@publicityworks.biz
Notes for editors
CNP Professional is a leading supplier of sports nutrition supplements ranging from protein shakes, protein bars, creatine supplements, meal replacements, mass gainers, weight loss supplements and post work out shakes all designed for the ultimate in sports nutrition.
Kerry Kayes, the founder of CNP Professional is a former national bodybuilding champion. He has been involved in sports nutrition for many years and his dietary expertise has established him as 'the man in the know' to sportspeople worldwide including boxer Ricky Hatton, Sean Long of St Helen's RLFC and David Dunn of Blackburn Rovers.
CNP Professional supplements are carefully formulated to ensure that the body is able to make best use of the nutrients. Unlike some protein supplements, CNP Professional's products are easy to drink - in fact, the Pro Slam only takes 5 seconds.
There are several articles explaining protein nutrition supplements on the CNP website - go to the home page and click on 'nutrition' under the articles section.
###