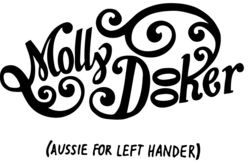 Sarah and I work really hard to make sure our wines are great year after year, because we want our customers to feel like they can pick up a bottle of Mollydooker and know they're getting an awesome bottle of wine every time, without having to know the details about a particular vintage
Napa, CA (PRWEB) April 17, 2008
Finding the perfect wine for any occasion can often be as simple as choosing a bottle from winemakers known for consistently producing great wines year after year.
It's Thursday night and you're wandering your local wine aisles searching for the perfect bottle to bring along to a dinner party this weekend. Your friends always have an amazing wine selection and you want to bring something fabulous and new...that won't break the bank. The options loom large. There's a plethora of choices from the new world and the old, but experience tells you that the difference between choosing a great bottle and something else is all too often just a matter of chance. So where do you start?
One easy route for making your selection is to follow great producers or winemakers who have a proven track record of producing consistent wines year after year. A lot of people don't realize that many wineries change their winemakers fairly regularly. So sometimes it's better to figure out who makes the wines that you love, and then search out the winemaker instead of just the label itself. Chances are if you like the style of a given winemaker and they've proven to you that they can make consistently high-quality wines, then you're practically guaranteed to get a great bottle.
"Sarah and I work really hard to make sure our wines are great year after year, because we want our customers to feel like they can pick up a bottle of Mollydooker and know they're getting an awesome bottle of wine every time, without having to know the details about a particular vintage," says Sparky Marquis, co-owner and winemaker of Mollydooker Wines. Sarah adds, "Before starting our own Mollydooker label two years ago, we made great wines for other wineries including Fox Creek, Henry's Drive and Shirvington. If you include the two vintages of Mollydooker (2005 and 2006), we've made five wines that have been awarded a 99-point score five years in a row. It sounds pretty good, but what it really means to us is that we've been able to produce high-quality wines consistently every year, and ultimately that our customers and fans can feel completely confident about buying a wine we've made no matter the vintage. In fact, the greatest compliment we can have is to hear from fans who have followed Sparky and I from brand to brand because they trust our winemaking."
Now what about that bottle for your upcoming party? Choose something fun, in a price range that suits the occasion. "We know that finding the perfect bottle for a dinner party can be daunting. The wine has to be great and priced for the occasion - not too extravagant, but something that shows you care. That's exactly why Sparky and I created the Mollydooker 'Party Series'. The labels and names are meant to be fun, and the $50 price point is just about right to help you turn any special occasion into a party!" says Sarah.
The current and inaugural 2006 vintage of Mollydooker's "Party Series" wines includes a Cabernet Sauvignon called Gigglepot (the perfect bottle to bring along to absolutely any fun occasion, dinner party or barbeque because this gorgeous red and its great label will help set the tone for nothing but fun), a Shiraz called Blue Eyed Boy (what could be better for new parents?), and the ultimate party wine -- a Sparkling Shiraz called Goosebumps.
Following your favorite winemaker is really easy thanks to the internet. Generally you can search the name of your favorite winemaker to find a listing of wines that they make, and more likely than not you can buy them right from the winery website. Another good option is to visit your local retailer or favorite sommelier at a local restaurant. Give them a few examples of wines you like, and ask them to help you find other wines by the same winemakers. Chances are they know about new projects by your favorite winemakers and love introducing you to their new finds.
Mollydooker Party Wines:
Gigglepot Cabernet Sauvignon 2006
Awarded 95 points from Robert Parker's The Wine Advocate! Intensity straight-up, this powerful Cabernet proudly displays a beautifully concentrated blackberry, plum and licorice nose. Fine, dusty tannins combine with lovely bacon and cashew oak characters. The purity and refined structure of this wine will linger in your mouth and amaze you. The label features Sarah and Sparky's daughter, Holly.
Blue Eyed Boy Shiraz 2006
Awarded 96 points from Robert Parker's The Wine Advocate! This remarkable Shiraz has a superbly concentrated nose of licorice, plum, raisin and raspberry fruit. Bursting with spice, blueberry and espresso, vanilla and toasty oak, this brilliant wine is silky and unctuous with a super long finish. The label pictures Sarah and Sparky's son, Luke.
Goosebumps Sparkling Shiraz 2006
This is a fun yet totally serious Sparkling red wine that is incredibly rich in color, and smells just like dark chocolate with raisins, strawberries and violets. The fruit flavors literally explode in your mouth giving you an awesomely rich, concentrated, pure Shiraz experience with a beautifully balanced finish. Serve ice-cold with anything from bacon and eggs to milk chocolate dessert.
Mollydooker wines are crafted in Australia, but can be found at your favorite US retailer or on their US website (http://www.mollydookerwines.com). All wines are shipped directly from Napa, California and shipping is included on all 12-bottle cases. (Wine shipping is only good where applicable. Restrictions may apply by state.)
###