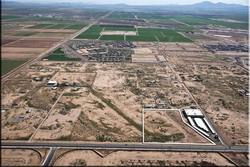 This property is a clear & level development tract. The property is within the city limits of Maricopa. There is frontage on Honeycutt Road, presently a four lane asphalt roadway, designated to be a six lane highway
Phoenix, AZ (PRWEB) April 14, 2008
Higgenbotham Auctioneers International will conduct an internet only commercial property inventory reduction auction offering two prime parcels in the greater Phoenix area at 11a.m. (MST) on Wednesday, April 16, according to Jim Owen, broker and auctioneer, with Higgenbotham Auctioneers International.
The auction will be conducted via the internet at NAALive.com and pre-registration is required to bid.
The first property is a 10.7± acre commercial tract located at 15872 Pinal Pkwy, Florence, Ariz., offered in parcels. The property is in the city limits of Florence and features mature trees on the front portion with frontage on Arizona State Hwy 79, connecting Tucson to Phoenix.
Owen said, "This property is adjacent to a major, 24-hour-a-day employer. The acreage has been surveyed and divided, with 2 pad sites on the highway frontage and interior pieces suited for such uses as retail, strip mall shopping, office space, and professional condo offices. There is also a 3.2 acre rear piece suited for non-walk-in commercial space or warehousing."
The second tract is 7.5± acres offered in two parcels and located at the corner of West Honeycutt Road and Gunsmoke Road in Maricopa, Ariz.
"This property is a clear & level development tract. The property is within the city limits of Maricopa. There is frontage on Honeycutt Road, presently a four lane asphalt roadway, designated to be a six lane highway," said Owen, adding "City water and sewer run though the property easement on the front and electric and phone are at the property line at the rear. C2 commercial zoning has been granted and the City has accepted the lots splits."
Interested parties who are unable to attend the live auction can participate via phone or real-time online bidding at http://www.NAALive.com. For more detailed information, visit our website at: http://www.higgenbotham.com. Contact Angie Poole at 1-800-257-4161 for details on registering and bidding at this auction.
About Higgenbotham Auctioneers International Ltd., Inc.: Founded in 1959, Higgenbotham Auctioneers International ("HAI") is headquartered in Lakeland, Florida, and specializes in the sale of corporate real estate throughout the United States and the world by utilizing the auction method of marketing. HAI is an alliance partner of NAI Global and enjoys continuing relationships with Fortune 500 clients such as Alcoa, International Paper, Wal-Mart Realty, and Sinclair Oil, as well as many publicly traded and closely held companies.
###