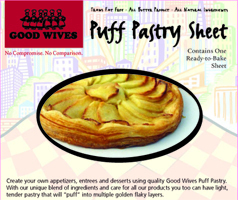 Boston, MA (PRWEB) April 17, 2008
Good Wives Hors D'oeuvres is happy to announce that our signature all natural, all butter, trans-fat free Puff Pastry Dough is available for retail use this spring. This is the same Puff Pastry that you have come to love in our hors d'oeuvres like the authentic hit New England Lobster Pot Pie and our stylish Asparagus and Pearl Couscous Puff Pastry Boat Entree.
Want a "tastes like Grandma's" crust for your home made pot pie? Good Wives flaky Puff Pastry Dough is the perfect solution. Want to impress your friends and relatives with your hand made hors d'oeuvres? Good Wives commitment to quality will make your presentation shine. Want dessert ideas to bring the family together? Look for great ideas on the back and inside of our retail packages for fun and easy recipes to entertain or enjoy in the comfort of your own kitchen. Check out a sample recipe below. Whatever your plans may be, our Puff Pastry Dough can save you time and bring flavor to your event.
For almost 30 years, Good Wives Hors D'oeuvres has been the leading national creator of both traditional and innovative appetizers and plated entrees. Good Wives is proud to continue our commitment to quality and satisfaction with our newest offering. For more information about our product line or for distribution inquiries, check out our website at http://www.goodwives.com or call 800-521-8160 to speak with one of our friendly customer service representatives.
Puff Pastry Apple Tart
Ingredients:
1 sheet of frozen Good Wives Puff Pastry, thawed
2 large apples, any variety
3 tablespoons sugar
3 tablespoons unsalted butter, melted
4 teaspoons apricot jam
Directions:
1)Position 1 rack in top third and 1 rack in bottom third of oven and preheat oven to 400 degrees Fahrenheit.
2)Line 2 backing sheets with parchment paper. Roll out pastry sheet on lightly floured surface to very thin 18 x 14" rectangle.
3)Using a small plate as a guide, cut out four 7" rounds. Transfer 2 rounds to each prepared sheet; cover and refrigerate at least 30 minutes and up to 1 day.
4)Meanwhile, peel, halve and core each apple, then slice very thinly.
5)Overlap slices from ½ apple onto each pastry round, leaving ¼" plain border. Sprinkle apple on each tart with 2 ¼ tsp sugar, and then drizzle with a little butter.
6)Bake tarts until pastry is golden and apples are tender (about 25 minutes).
7)Warm the apricot jam carefully in a small pan. Brush each tart with jam for a shiny glazed look.
8)Transfer tarts to racks, cool 10 minutes. Serve warm or at room temperature.
For Marketing Inquiries contact Innovative Foods Inc.
Joshua Lewis
800-521-8160 or
email: jlewis(at)goodwives.com
###