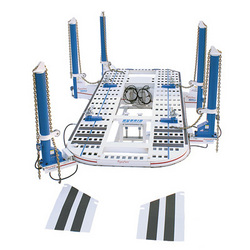 The American Freedom frame rack has three movable towers that glide around the outside rim of the rack bed to wherever they are needed. This configuration is extremely handy for the technician but it can limit the width of vehicles that can be repaired
Detroit Lakes, MN (PRWEB) April 15, 2008
CJJ, Inc. has announced its latest innovation in auto body repair equipment -- the Signature Hybrid frame machine. The automotive frame straightener takes its inspiration from previous designs, combining the most desirable features in a machine with versatility and pulling power.
CJJ, Inc. based the Hybrid on two of the company's current frame machines: the Signature 5-tower rack and the American Freedom 3-tower rack.
Company spokesman Darren Bremseth explains the design goals and how the Signature Hybrid frame rack fulfills them, "With our Signature frame straightener, two of the five towers have to be lowered down so vehicles can drive on and off the rack. That means those two towers are limited to lighter pulls, they can't work as hard as the three larger pivoting towers.
"The American Freedom frame rack has three movable towers that glide around the outside rim of the rack bed to wherever they are needed. This configuration is extremely handy for the technician but it can limit the width of vehicles that can be repaired," continues Bremseth. "With the Signature Hybrid, we've combined the best features of both models in a frame machine that has incredible pulling power, great versatility and easy accessibility for auto body technicians."
The new Signature Hybrid has three pivoting pulling towers at one end and two movable towers that ride on a track around the outer edge of the bed. The pivoting towers provide strength, stability and repair width, while the movable towers deliver 360 degree access for pulling.
Bremseth predicts the Hybrid frame rack will be popular with auto body shops because it offers so many advantages:

10-ton hydraulics in all 5 towers provide the needed pulling power.
Movable towers make tower group pulls possible, no dead zones.
V-rollers allow smooth, repositioning of towers along the track.
Easy tie-down system secures track towers for pulling.
Removable cross members allow access to front and rear of vehicle.
Rack bed-located no-drip hydraulic quick connections.
Ability to group towers at drive-on end.
Two-year limited warranty.
All CJJ, Inc. frame machines are made in the USA.
Learn more about and see images of the new Signature Hybrid frame straightener here: http://www.autobodyshop.com/html/hybrid-frame-machine.html
About CJJ, Inc.
CJJ, Inc. has been manufacturing auto body shop equipment since 1986. In addition to the Signature product line, CJJ, Inc. also manufactures the Star-A-Liner Cheetah line of auto body frame machines.
For Information or Interviews Contact:
Darren Bremseth, National Sales Manager
CJJ, Inc.
1210 Fortune Ave.
PO BOX 480
Detroit Lakes, MN 56502
Email: dbremseth @ staraliner.com
Phone 218-847-2608
Toll Free 800-445-8244
Fax 218-847-9416
###