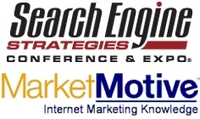 Search Engine Strategies has always delivered first-rate conferences and workshops
Scotts Valley, CA (PRWEB) April 16, 2008
Internet marketing training provider Market Motive has teamed with Search Engine Strategies to provide online classes for training in search marketing, web analytics, and web conversion techniques.
The workshops are live and interactive, delivered via video screen sharing and live telephone conference. Limited class sizes ensure attendees have time to ask for clarification or deeper explanations. Tuition for each class is $395 and registration opens today at http://www.marketmotive.com/online-workshops
"Search Engine Strategies has always delivered first-rate conferences and workshops," said Market Motive CEO Michael Stebbins, "Market Motive leads in online instruction, with many of the same speakers, so this combination brings high quality training to a larger audience."
Internet marketing expert Andy Beal recently reviewed Market Motive online training. "Market Motive's media-consulting combination is effective and teaches online marketing in a way that works for the beginner or the experienced practitioner," said Beal, "I'm impressed, and the guys behind this are the best in the business."
Classes will be held approximately once each month. Upcoming classes include:

Additional classes will be posted at http://www.marketmotive.com/online-workshops later in the month.
About Search Engine Strategies
Since 1999 Search Engine Strategies (SES) has been the leading international conference series for webmasters, digital agencies, online marketers and corporate decision makers. Over the years SES has guided search marketers of all skill levels through the fast changing and complex world of search -- the single fastest growing marketing sector.
The SES series operates under a variety of formats around the world, from large-scale multi-tracked conferences and exhibitions to more intimate forum style events and in-depth training courses drilling into the detail on specific topics.
About Market Motive
Market Motive provides search marketing training videos, conference calls and direct Q&A with the top six internet marketing consultants for just $299 per month:

Bryan Eisenberg on Conversion Optimization
Greg Jarboe & Jamie O'Donnell on Online Publicity & Universal Search
Dr. Alan Rimm-Kaufman on Paid Search / PPC
Matt Bailey on Social Media
Avinash Kaushik & John Marshall on Web Analytics
Todd Malicoat on Search Engine Optimization
Perfect for marketing teams, consultants and web site owners, members get cutting-edge training and authoritative answers from the recognized authorities for online marketing. The company also provides consulting services to select clients. Market Motive was founded in 2007 and is based in Scotts Valley, California. For more information, visit http://www.marketmotive.com or call (831) 706-2369.
###