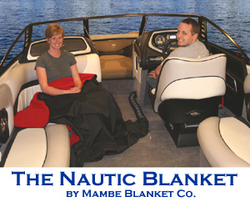 It's a blanket boating enthusiasts will find very valuable.
Seattle, WA (PRWEB) April 17, 2008
A new waterproof-windproof blanket designed specifically for boating was unveiled today as the latest product offered by Mambe Blanket Company, based out of Seattle, Washington.
"It's a blanket boating enthusiasts will find very valuable." said Matt Weir, founder of Mambe Blanket Company. "We designed it to be used on boats of all types when conditions are cooler out on the water. It can be used as an emergency blanket or just for added comfort."
The blanket, named the "Mambe Nautic" measures 60" x 72" and has a 12" deep pocket along the bottom edge to tuck your feet into. One of the most innovative features is the ability to attach a boat's heater hose directly to the blanket through one of two draw string openings. Once inserted and secured, warm air actually circulates between the two layers of the blanket making it extra warm.
The blanket is designed for performance and durability, Weir said. "It's made with Polartec fleece and coated Ripstop nylon, so it's not only soft and warm, but very durable and machine washable. We expect it to become an essential accessory for boaters who enjoy being out in all weather."
The Nautic Blanket is available in several colors for $129 at:
http://www.mambeblankets.com
The website has additional information on all of Mambe's blanket offerings.
Mambe Blanket Company is a Seattle, WA area company specializing in high quality waterproof blankets for a variety of uses. The company's blankets are sold worldwide via its website and select retail partners.
# # #