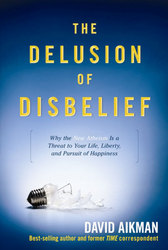 atheism, when adopted wholesale by any government or society, has very profound and disturbing consequences for political liberty.
Carol Stream, IL (PRWEB) April 18, 2008
In the most cogent and detailed critique yet of the so-called New Atheism, former Time magazine correspondent and bestselling author David Aikman exposes the flawed reasoning of today's chest-thumping "atheism evangelists" - and makes a strong historical case that atheistic systems and ideas are socially dangerous.
The Delusion of Disbelief: Why the New Atheism is a Threat to Your Life, Liberty, and Pursuit of Happiness (SaltRiver, an imprint of Tyndale House Publishers) is the definitive response to Christopher Hitchens, Daniel Dennett, Sam Harris and Richard Dawkins, authors (Aikman refers to them as the Four Horsemen) who have hit the bestseller charts by denouncing religious belief as both deluded and harmful to society.
"The Four Horsemen don't just want to depict Jewish and Christian traditional beliefs as cruel or self-contradictory…They want to lay charge that anyone, at any time, who has subscribed to these beliefs has either engaged in great wickedness or has been at risk of being provoked to do so by those beliefs," points out Aikman.
Not a traditional defense of religion, The Delusion of Disbelief counters the great attacks on faith that have been launched in recent years against the millions who attend church, go to synagogue, worship in mosques, pray in temples, or otherwise conduct lives in which religious faith plays an important role.
Explaining why it's so important to expose the flawed logic and historical errors of the New Atheists, Aikman points out that not only are their arguments against God weak, but "atheism, when adopted wholesale by any government or society, has very profound and disturbing consequences for political liberty."
In an era of intense debate about the appropriate role of religion in a democratic society, Aikman cites the overwhelming view of the founders that America's liberties cannot survive if most of our nation is atheist--and unpacks what they saw as a necessary relationship between religion, virtue and freedom. France's Alexis de Tocqueville noted this relationship in his masterwork, Democracy in America:
Despotism may be able to do without faith, but freedom cannot. Religion is much more needed in the republic they (Americans) advocate than in the monarchy they attack, and in democratic republics most of all. How could society escape destruction if, when political ties are relaxed, moral ties are not tightened? And what can be done with a people master of itself if it is not subject to God?
In the process of shattering the metaphorical light bulb of the so-called "Brights," a term Dawkins and Dennett have used in referring to atheists (whom they view as more intelligent than religious believers), Aikman emphasizes the need for dialogue between believers and unbelievers and calls for civil discourse on both sides.
Aikman himself welcomes the opportunity to engage in such discourse with any of the Four Horsemen, but in particular would like to trade views with fellow Oxford graduate Christopher Hitchens, whose writing and journalistic talents he acknowledges while disagreeing with Hitchens' conclusions.
The Delusion of Disbelief releases in April. A national publicity campaign is planned. Visit the book website at: http://www.isanyoneupthere.com/
Dr. David Aikman is a 23-year veteran of Time magazine, covering headline events around the globe and meeting the leading newsmakers of our times. He is the author of eight books, most notably a groundbreaking account of the church in China and its future worldwide impact, a best-selling biography of President George W. Bush's spiritual life, and an analytical biography of the life and influence of Billy Graham. His forthcoming books include a new novel in the Richard Ireton series and a book about the Middle East.
Dr. Aikman is a columnist on world affairs for Christianity Today and writes for news publications including the Wall Street Journal, The American Spectator, and The Weekly Standard. With special expertise in China, Russia, the Middle East, Mongolia, and religious freedom issues worldwide, he is often asked to provide expert testimony at congressional hearings and to give television commentary in connection with breaking news events. His radio commentaries can be heard regularly on the Salem Communications network. Dr. Aikman also teaches history and writing at Patrick Henry College in Virginia.
Since its founding in 1962 by Dr. Kenneth N. Taylor as a means of publishing The Living Bible, Tyndale House Publishers has since grown into one of the premier publishing houses in the industry. Tyndale products include the popular Left Behind series and numerous other New York Times bestsellers, including Indianapolis Colts head coach Tony Dungy's No. 1 bestseller Quiet Strength. Located in the Chicago, Illinois suburb of Carol Stream, Tyndale also publishes the New Living Translation Bible and many other resources for church and family.
The Delusion of Disbelief
Answering the Arguments of Atheism
Available April 2008
Tyndale House Publishers
5 x 7 1/4
192 pages, hardcover
ISBN: 978-1-4143-1708-3, $16.99
For review copies and author interviews, contact Todd Starowitz,
Tyndale House Publishers
630-784-5397
###